Here it is!  Our most popular post of the year:  Hand-picked audiobook recommendations for the family road trip, 2017 Edition.  And also by popular request, we have included the length of the audiobook this year so you know if you are committing to only a few hours or an epic work.  It isn't a long list, but we are aiming for quality, not quantity, and it takes an entire year of listening to get a list up to our standards.
So make some family memories by listening together.  (Bonus:  Even the driver can participate.)
See Our Prior Year Recommendations for Family Audiobooks!" 
2016 Recommendations     2015 Recommendations     2014 Recommendations     2013 Recommendations     2012 Recommendations
All recommendations have a content level of 5 or less in all content categories.
Click on the book cover to be taken to the book's complete review and content analysis.
Best Audiobooks for Middle Grade Readers
The Blackthorn Key
by Kevin Sands
Length:  7 hours 22 minutes
Mystery, adventure, historical fiction – yep, this book has it all.  If you aren't in love with both the reader and the story within five minutes, I would be greatly surprised.  In fact, this may be my favorite reader of the 2017 recommendations.  There are also some great male characters in Christopher and Tom.  This is also a book that teenagers would probably enjoy so it would be good for a car full of varying ages.
Spirit Animals Book 1: Wild Born
by Brandon Mull
Length:  5 hours 36 minutes
This is a series where each book is written by a different, best-selling author.  This first book is kicked off by the author Brandon Mull, author of the Fablehaven series.  This is a fantasy setting with four children (two girls and two boys) who all have a spirit animal and are the fulfillment of a prophecy.  All the elements that make for a fabulous fantasy and yes, a first-rate reader.
Long Walk to Water
by Linda Sue Park
Length:  2 hours 41 minutes
This is a life-changing book so absolutely listen to it as a family.  It is a full cast recording with two readers:  one for the boy and one for the girl.  The voice of the boy is particularly outstanding.  The audio version was an Audie Awards Finalist in 2014.
The Mark of the Dragonfly
by Jaleigh Johnson
Length:  9 hours 49 minutes
This audio version has a single, female reader whose voice is particularly well-suited to the protagonist, Piper.  This book is is a little science fiction-y with a hint of steampunk and a dash of fantasy.  Plentiful action makes this story clip right along.  There is also a strong male character.  This book will appeal to both a male and female audience.
Best Audiobooks for Teens and Tweens
The Sleeper and the Spindle
by Neil Gaiman
Length:  1 hour  6 minutes
Okay, so this is more of a short story than a book so it is perfect if you don't want to commit to an epic-length audiobook.  This has a Full Cast recording (multiple people voicing the parts) and sound effects galore.  I found it super creepy and atmospheric so it is recommended for older listeners.
Far Far Away
by Tom McNeal
Length:  10 hours 58 minutes
The character telling the story in the book is actually the ghost of Jacob Grimm and so the audiobook narrator is perfect for that role.  Although it is an older, richer voice, it works when he is voicing the young people in the story because it is all told from his perspective.  Now, be warned, that there is some thematic matter that turns a bit intense and dark before you make it to the end, thus the recommendation for teens and not for elementary ages, but Jacob Grimm's loyalty to his young friend is so touching.  (Never fear, content levels are still all 5 or under. Click on book cover for complete content review.) This version was an Audie Award Finalist, Teens, 2014.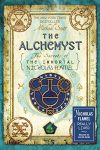 The Alchemyst: The Secrets of the Immortal Nicholas Flamel
by Michael Scott
Length:  10 hours 2 minutes
Another excellent reader!  With 15-year-old male and female protagonists, teens will relate well to the characters.  This book has a Percy Jackson-vibe in the way the story unfolds at a breakneck speed and moves around in location.  The characters are driving around in a car, you are driving around in the car–albeit you are not being pursued by god-like beings intent on your destruction.
Stormbreaker
by Anthony Horowitz
Length:  4 hours 36 minutes
Every summer road trip needs an action-packed thriller and Stormbreaker is just that! A fourteen year old male spy and a dastardly villian with a  popping plot.  The reader's British accent is perfect because of where the story is located.  This is also a quicker listen, if you aren't in the mood for an odyssey-length book.  Perfect match!
Honorable Mention:  Teens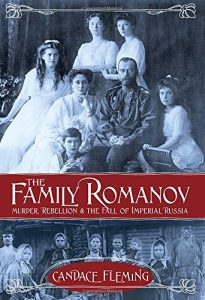 The Family Romanov: Murder, Rebellion, and the Fall of Imperial Russia
by Candace Fleming
Length:  9 hours 23 minutes
The primary reader on this non-fiction audiobook was quite decent; interspersed with the main narrative were excerpts from source material, such as journals, and these were always read by different readers, often male, and with a Russian accent.  It really was a nice touch.  Now, this is an honorable mention only because, well, it is a little dark for a summer road trip.  Terribly interesting, but if you have ever seen Doctor Zhivago then you know what I am talking about.  Russia is just plain depressing at that time of history.  So if you don't mind the heaviness, then go for it!
Adults, sorry, nothing jumped out this year purely aimed at adult listeners, but I think you will find the options listed here for your younger companions will actually be quite satisfying.
Happy listening and happy driving!
– Cindy, Executive Editor