Yes! Our hand-picked audiobook recommendations for the family road trip, 2016 edition, is here!  It takes an entire year of listening to get a list I am satisfied with.  I am happy to report we even have a couple of adult recommendations again this year.  So buckle-up, turn up the volume, and stop the bickering in the back seat by listening in to one of the below recommendations.
All recommendations have content levels of 5 or less in all our content categories.
2015 Recommendations      2014 Recommendations      2013 Recommendations      2012 Recommendations
Click on the book cover to be taken to the book's complete review and content analysis.
Best Audiobooks for Middle Grade Readers
Echo by Pam Munoz Ryan
There are a lot of good things to say about this book.  The readers are diverse and animated.  However, what is especially charming is that music is critical to this story and so music is incorporated into the audio version–harmonica, piano, lullabies–all are are given voice in the audio version.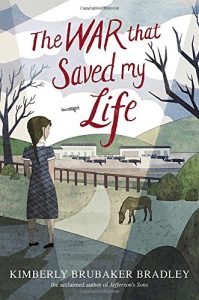 The War that Saved My Life by Kimberly Brubaker Bradley
Oh my goodness!  I had to do an eleven hour solo drive, and I was concerned about staying awake (and not losing my mind).  I put this audiobook on and problem solved.  I was so enthralled by Ada's story, her problems, and her life that the trip flew by.  A brilliant book and the perfect reader!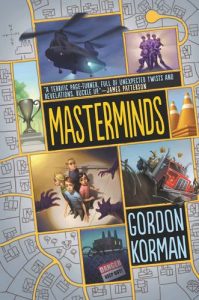 Masterminds by Gordon Korman
This is a great book for listeners who like mystery and action stories. The story alternates among boy and girl characters with the reader successfully giving each a unique voicing.  This book would work well in a car full of varying ages and genders.  The characters range in age up to fourteen, and it is a story that would even hold the interest of a teenager.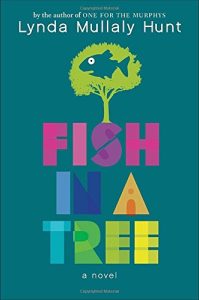 Fish in a Tree by Lynda Mullaly Hunt
Despite is odd title and unusual cover, this is a story very much grounded in contemporary times and full of real-life problems, but don't for a minute assume that it wasn't interesting.  The title is a New York Times Bestseller and has received many accolades, which are deserved.  The reader, Kathleen McInerney, is perfectly (yes, perfectly) suited to the voice of the protagonist.
The Clockwork Three by Matthew J. Kirby
The lives of two boys and one girl intertwine in this book with mystery, automatons, music, and danger.  It was definitely a gripping listen.  I found myself lingering on this one, pulled in both by the reader and by the curious direction of the story.  Especially good for a car full of boys and girls.
Ella Enchanted by Gail Carson Levine
The book is charming, the movie is horrid, and the audiobook is happy, due to the reader's young and bright voice.   She narrates in a funny and animated way.  It is a version of Cinderella so fans of the original  fairy tale will be the ones most likely to enjoy.  This was a pick by our reviewer, Amber.
One Dog And His Boy by Eva Ibbotson
This is another pick by Amber and it is great for the youngest of listeners–especially those who long for a dog of their own.  The narrator has a pleasant British accent. It clocks in at about five and a half hours of listening time so it is perfect for that mid-length trip.
Best Audiobooks for Teens
Michael Vey: The Prisoner of Cell 25 by Richard Paul Evans
This recommendation has teenage guy written all over it.  There is plenty of humor provided by Michael Vey's best friend and the narrator nails that part.  Plus, there is plenty of action for all the action junkies out there.
Heist Society by Ally Carter
This is a recommendation that I waffled on a bit because, yes, I am searching for perfection.  The reader is outstanding voicing protagonist Ally and the other female characters; however, for many of the male characters she sounds like she has a stuffy nose.  Nevertheless, I forgive that small flaw.  This is a fun Italian Job-type story.
The Last Dragonslayer by Jasper Fforde
This recommendation is one that can satisfy a wide age range of listeners because of the older protagonist (for teens) and the magical elements (middle grade listeners).  The big bonus here is the dry British humor and a complex magical world that is ever so creative and unique (that will keep the adults entertained).  The reader has a nice British accent which is perfect for this book.  Plus, it has a transient moose.  Come on! Who doesn't love a transient moose?
Best Audiobooks for Adults
Mr. Penumbra's 24-Hour Bookstore: A Novel by Robin Sloan
Oh my goodness!  I loved, loved, loved the audio version of this book.  I so did not have time to listen to it, but I listened to every word.  The narrator was ideal for the protagonist Clay, and he hit all the right notes in capturing the spirit and essence of the book.  Many older teens will probably enjoy this book.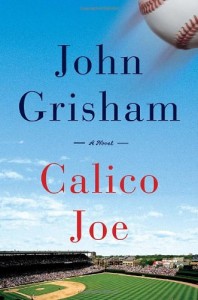 Calico Joe by John Grisham
Grisham is a usually a solid bet, but again, it is the reader that makes an audiobook work.  This reader's voice was particularly easy to listen to.  Any older teens who are baseball fans would also be interested in this novel.  The book clocks in at only about four and a half hours so it isn't a large time commitment and perfect for shorter trips.
Drive safely and happy listening this summer! – Cindy M., Executive editor