We are excited and pleased to bring our 2015 edition of "Best Audiobooks for the Family Road Trip". It might be our best audiobook list ever as we have some top-notch recommendations this year. Help pass the miles, share a book together instead of everyone being absorbed in their personal electronic device or phone, and look out the window as you go. This year we really do have something for everyone…even some adult recommendations.
You will notice that the word "perfect" is used a lot because that is kind of what we are going for here. Our criteria to make this list is quite high. An only adequate or okay reader usually is enough to get the book axed from this list. Sorry if the word "perfect" seems over-used below, but that is what we mean.
All recommendations have content levels of 5 or less in all our content categories.
Click on the book cover to be taken to the book's complete review and content analysis.
Best Audiobooks for Middle Grade Readers
Holes by Louis Sachar
This is just a great story.  The recording does it justice also.  Another plus is that it is not a crazy-long audiobook.  It is a little under four and half hours so it is good for that not-too-long road trip.
Dragon Rider by Cornelia Funke
A certain famous actor does the reading of this book and the voices are phenomenal! (We will let you discover the reader's identity on your own.) The dedication in Cornelia Funke's Inkheart is to this reader and one can't help but wonder if it is because of this recording. This is a great pick for girls, boys, adventure seekers, and their parents. Highly recommended!
Island of the Blue Dolphins by Scott O'Dell
If your child's school no longer requires this as part of their reading, then this is the perfect time to corner your child in the car and introduce them to the story. The story is told in first person and the reader's voice is a perfect fit. Again, this is a good pick for boys and girls. The ultimate survival story.
Ranger's Apprentice: The Ruins of Gorlan by John Flanagan
Why did I only give this book four stars the first time I read it?! While looking for recommendations for this post, I snagged an audiobook version and I fell in love with this book.  (I was tempted to go back and change my original book review to five stars, but I resisted.)  This is a first-rate adventure with charismatic characters.  The reader was perfect for it!
The Bad Beginning by Lemony Snicket
Tim Curry.  That says it all.  The reader is Tim Curry and his voice is ideal for this sometimes dark tale.  There is a full cast audio version out there with Tim Curry, but we listened to the straight reading by Tim Curry only and thought it delectable.  This story's style also lends itself well to the read-aloud format.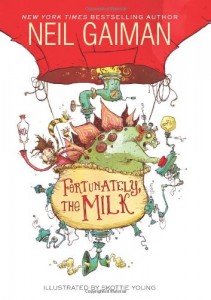 Fortunately the Milk by Neil Gaiman
Clocking in at only about an hour this one is perfect for a short trip.  Read by the author, it is so entertaining that even the teens and adults in the car will not be able to resist it.  Also, for all those adults out there thinking that "anyone can write a children's book" this one should make you think twice.  Frankly, it is just that charming and clever.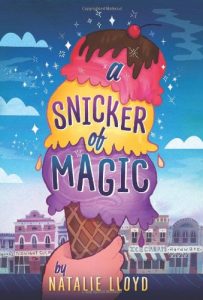 A Snicker of Magic by Natalie Lloyd
Adorable! The voice of this reader is absolutely adorable with her slight Southern drawl. A more perfect voice-character fit couldn't have been found. This is not a book with magic battles and trolls and non-stop action, but it does have magic. (If you need high-adrenaline material for your crew, this might not fit the bill.) The writing is gorgeous and lyrical. It should completely crush any remaining delusions people might still be nursing about writing children literature, but don't worry–there is always young adult and adult literature for the rest of us would-be-writers.
Best Audiobooks for Teens
Dodger by Terry Pratchett
Accents can be tricky, but I can't imagine this book without them. The reader nails all the various British accents and it is hard to conceive them coming off the page any better. While checking out this audiobook, my son said, "Is that Alfred?"–as in Batman's Alfred aka Michael Cain. No, it is not, but it sure sounds like him. Mr. Pratchett passed away this year and if you haven't read anything by him, well, that is just crazy!
Airman by Eoin Colfer
Adventure, revenge, romance, a touch of steampunk, a hint of The Count of Monte Cristo–this is a wonderful story. No complaints and only good things to say about this reader.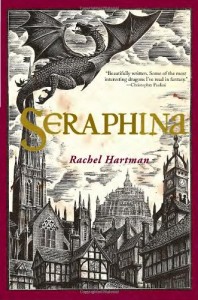 Seraphina by Rachel Hartman
Loved, loved, loved this story and character!  The voice of the narrator was perfectly suited for the voice of Seraphina.  The narrative is told in first person so it immediately draws one in.  A couple of the male voicings were so-so, but all is forgiven because of the flawlessness of Seraphina's voice.  It was completely enchanting.
Matched by Ally Condie
"The audiobook of Matched is a great choice, especially if you have a long road trip ahead of you (because you can listen to the whole trilogy if you like). Kate Simses is the narrator, and her voice has a childlike innocence to it which matches the main character's personality. Whenever there is a machine talking in the book, the narrator's voice is made to sound as if it speaks from a echo-ey room, which doesn't take away from the effect of the book. The story is well-loved for good reason, and with a good narrator, there's no reason not to pick up the audio version. This particular audiobook lasts about 10 hours." – Amber, CBR Reviewer
Honorable Mention for Teens
Cinder by Marissa Meyer
I only listened to this audiobook five minutes before I thought, "Nope. This definitely won't make my audiobook recommendation list." I didn't care for the reader's voice–the reader's tone was too cynical and jaded for my taste. Plus, I didn't like the reader's portrayal of the male characters' voices. Nope. Nix. Never. However, as my hand hovered over the eject button in my car, I remembered I didn't have anything to listen to until my next library stop so I decided to listen a bit more since I was a sucker for the Cinderella story and because the CBR reviewers loved the series so much. I would just listen a bit to see what the attraction was. I LISTENED TO THE ENTIRE THING…and I can't say that I ever came to love the reader, but the fact that I listened to all ten hours of it has to count for a lot.
Note: I did grab the next audiobook in the series, Scarlet. It introduces a different character, Scarlet, and I was curious if the reader would be different; however, the reader appears to be the same for the entire series.
Update July 2016: I have now listened to ALL four of these books in audiobook form. That is more than sixty hours of listening, and I have to admit that I ended up falling in love with the reader, Rebecca Soler, in book three. See my review of the final book, Winter, for some of my thoughts on the audiobook version.
Best Audiobooks For Adults
The Boys in the Boat by Daniel James Brown
Inspiring story, well-suited reader, non-fiction…this is an audiobook where it all comes together.  This book is completely appropriate for any younger listeners who decided to tune in; in fact, teenagers may find it particularly interesting.
As You Wish: Inconceivable Tales from the Making of The Princess Bride by Cary Elwes
A consummate reading by the author/actor Mr. Cary Elwes. There are also many quotes by his fellow actors and directors that are recorded by the actual individual, such as Robin Wright, Billy Crystal, Wallace Shawn, and many others. That is a wonderful touch. This is not a terribly long book at only about seven hours. Just like the movie, the book is suitable for family listening. A true pleasure to listen to!
Have a happy and safe family road trip this year! Happy Listening!
– Cindy M., Executive Editor