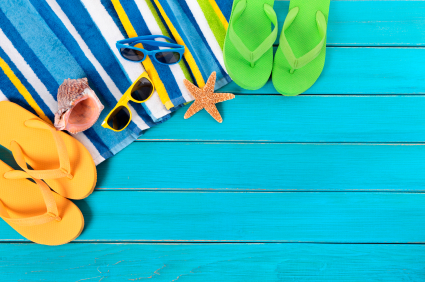 Let the rejoicing begin…school is out and summer is finally here!  Road trips, ice cream, the 4th of July, swimming, lazy summer days with not a scrap of homework in sight, and of course, the beach–all the great things we love about summer.  So if you are fortunate enough to be headed to the beach and need a book to tuck in your bag., then we have a few suggestions for beach reads.  Of course, that begs the question…What exactly is a beach read?  One of our reviewers summed it up eloquently–  [quote]My definition of a beach read is something you can follow easily with multiple interruptions:  frisbee landing on face, sand kicked on book, checking on kids who have gone in too deep, etc. You also need to be into it enough to be willing to hold it over your head when you turn face up. A beach read should have a little romance and a little action, but the action probably shouldn't involve great white sharks, tidal waves, or man-eating, ocean-dwelling horses." – Leslie, CBR Reviewer[/quote]
So here are some reading suggestions.  To see full book review with rated content analysis just click on the book's title.
Beach Read Suggestions for Mom
Maisie Dobbs — A mystery for historical fiction fans.  The first in a series and a great choice for the beach.
Edenbrooke —  Romance, anyone?  Absolutely!   This is a quick  and happy read.
The Secret Keeper — If you haven't been introduced to the author Kate Morton, this is her most recent novel.  Entwined timelines and characters make for a true page-turner.
Beach Read Suggestions for the Kids
For a kid or teenager, the definition of beach read might be a little different because let's face it, they are going to be busy playing in the sand and the water.  However, there are some fun books out there about summer vacations or set at the beach that are perfect for reading on those days you can't actually make it to the beach.
For the Middle Grade Readers in your crew:
A Long Way from Chicago — Join two siblings as they spend a summer with their maverick grandma.  Going to see grandma will never be the same.
The Penderwicks  — A recent book with an old-fashioned feel about a family and their summer vacation.
Runaway Ralph —  Summer Camp, anyone?  Ralph is all set to get there on his motorcycle.
Wasatch Summer — Find out what it is like to grow-up in the Wasatch Mountains in 1800's.
For the young adults in your crew:
The Lifeguard — Okay, if the cover of this book doesn't say 'Summer', we don't know what does.
Summers at Castle Auburn — This is a little bit fantasy and a little bit romance.
The List — The protagonist spends a summer in California working on her "list".
City of Bones — Complete escapism fiction!  Plus it will be out as a movie at the end of the summer.
Matched –More escapism fiction that is tough to put down.
May you have a wonderful summer full of wonderful reading.
– Cindy M., Editor