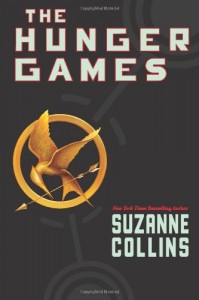 The Hunger Gamesby Suzanne Collins is one of our most requested titles for content analysis and review.  With the recent release of the movie, there has been a resurgence in interest.  (The fact that I have lent out my copy three times in one week is evidence of this.)  Jenny, a CBR Reviewer, graciously agreed to re-read the book and write up the content review.
With first-class writing, plotting, characterization, and an honest ending, The Hunger Games is a gripping read, but its story is built on a very violent concept:  an oppressive government orchestrates an annual spectacle where children are killing children while many in the dystopian society view it as entertainment.
Reader comfort with content levels is personal and varies with the individual.  As the editor of Compass Book Ratings, if you are making reading choices for yourself, then I hope you will find the content analysis for The Hunger Games a useful tool.  Speaking as a parent, if you are helping a child make a reading choice, then I would encourage you to read the book yourself.  You know your child best and there is no substitute for reading the material first hand.
– Cindy M., Executive Editor
[button link="https://www.compassbookratings.com/reviews/index.php/review/view/275″]See Full Book Review and Content Analysis[/button]