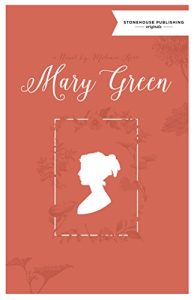 If you are a Jane Austen fan, then you just might want to check this author out!
Melanie Kerr is the author of Follies Past and Mary Green; both are Regency Era novels.  Our reviewer, Rachel, has reviewed both books and highly recommends them.  When Rachel had the opportunity to ask Melanie some questions, she jumped at it!
Rachel, CBR:  What made you fall in love with the Regency era?
Melanie:  I don't think it was so much the era as the writing of Jane Austen in particular, combined with a love of petticoats and all things old-fashioned. I always say, there are very few intersections of sophisticated English and pastoral escapism, as I call it. Austen's works are the only place I have yet found that satisfy intellectually and romantically. Her wit and her sentences and her keen observation and insight are all things I can sink my teeth into, yet her storytelling is so compelling and enjoyable that they can whisk me away and I can daydream away with them in a reverie of lace and wallpaper.
Rachel, CBR:  What is your favorite Jane Austen novel?
Melanie:  It is trite to say Pride and Prejudice, though it is almost impossible not to, since it is quite possibly the best English novel ever written, at least by certain standards. I am a great fan of Persuasion, though. The story of a lost chance recaptured is such a sweet one, and that letter from Captain Wentworth can still give me shivers.
Rachel, CBR:  Where were you when you came up with the idea for this novel?
Melanie:  Probably lying in bed. Or maybe in the shower. Those are the most common places for inspiration to strike. Or I might have been driving in northern Alberta. Those long stretches of isolated road, where there is no radio signal, and nothing to do but think up story lines, are an unlikely but ideal place to escape to pre-Victorian England. I know that I began with a conception of where Mary might have come from, how she ended up with the Hargreaves, and then extended from there. I always write my novels from the end, so I thought of where she might end up and why, and then worked backwards. The novel starts out a lot like Cinderella, or Mansfield Park, but I did not intend it that way. I just built the story around her, and that was how the beginning turned out. The characters and the setting were just the natural result of who would be there if Mary was the character I made her. And, I can assure the readers that the novel does not turn out to be a Cinderella story, and any similarities to Mansfield Park quickly disappear.
Rachel, CBR:  There are several memorable characters in Mary Green. Were any of them inspired by real people?
Melanie:  Jane Austen was often asked this question, and she replied that it would very much diminish her genius if she merely copied existing people rather than creating them out of her own imagination. I do not pretend to share her level of genius, but I will take the credit or the blame for my characters. I made them all up. Though there are traits I have observed in various people which are also manifest in some of my characters. They are not copies of other individuals, but they do behave or think as I have seen other people do, or even known myself to, actually. I studied theatre in university, and I often think writing is a lot more like acting than I had considered it before I wrote my first novel, only instead of performing the character, I write it. The process is much the same though, putting myself in the situation of the character, imagining how they might feel, considering their motivation, their tactics, the stakes. Then I describe it in words instead of expressing it through my person. Jane Austen began her writing career with plays, largely, so it seems fitting that my approach to writing feels so closely related to the dramatic arts.
Rachel, CBR:  If you could have lunch with one character from the book, who would you
choose and why?
Melanie: In life, I much prefer the company of caring, kind people, who consider the feelings of others and try to live their lives with thoughtfulness and to make good choices. In books, whether reading them or writing them, however, it is the villains who are the most fun. If you take away the moral compass, the restraints of conscience or propriety, the character can go off to the far borders of imagination with what they will say or think or do. This makes them vastly more entertaining than the more sober, goody types. How often I have laughed out loud, in the shower or in my bed or my car when something has struck me that a particular character might do, and I love capturing it all. But this all only applies on paper. In no way do I think unkind people are more interesting. In real life, it requires far more strength and creativity to be constructive and giving and loving than just to be selfish and careless, which is all most villains are really doing. So I would say, probably Mary herself. She actually has ideas about what she would like to do with her life. She is not a destructive rebel, though she also does not simply accede to everyone's expectations, and she is also very generous and considerate. I think she would be a very good friend.
Rachel, CBR: Besides chocolate, what do you think Mary would enjoy most from our modern world?
Melanie:  This is the sort of question I am forever pondering. People have always romanticized the past, and to a degree, the future as well. I was watching a costume drama with my grandmother one time, and I sighed over a charming stone cottage, to which she replied that she would not wish to live there. She liked her central heating quite well, thank-you. She knows what it is actually like to live in the olden days. Granted, she did not live in the early 19th Century, but the principle is the same. So I think Mary would like everything, from more advanced gender equality to the convenience of modern modes of travel. But everyone would appreciate those things, so what, in particular, would appeal to Mary? This is really a question of what she wouldn't care about, since there is so much to appreciate. I'm pretty sure she wouldn't like that there was still war. I think she would be disappointed that with all our advancement there were still so many things we hadn't worked out, and I think she would have a few things to say about our moral hypocrisy.But electric light has got to be pretty high on the list of modern miracles, even though to us it is so primitive a technology, having been around for over a century. We are just spoilt, having never had to live without it. I think Mary, and anyone who lived in the dark all their lives, would value it much higher than we do.
Rachel, CBR:  Any other projects in the works?
Melanie:  In addition to my writing, I also plan Regency-era costume events, and I have got several of those in the work, such as the Pride and Prejudice Ball this October. I am also working on putting out an audiobook of my last novel, Follies Past: a Prequel to Pride and Prejudice. Before I began writing Mary Green, I had been planning to write a prequel to Sense and Sensibility, but was approached by Stonehouse Publishing, who solicited a submission of something not based on any other Jane Austen novel. I was really excited about working with them, so though I actually didn't have a manuscript to submit, I wrote them one. Now I am able to return to my former plan, and think about my next prequel.

Rachel, CBR:  Thank you! I really enjoyed the book and can't wait to share it!
Melanie:  Thank you so much for having me. I am delighted you enjoyed the book.