On February 14, 2015 the Cybils announced their 2014 winners.  Compass Book Ratings had nominated several titles–three of which made the finalist round.  We were thrilled to see that our nomination, The Family Romanov: Murder, Rebellion, and the Fall of Imperial Russia by Candace Fleming,was the winner of the Non-fiction for Young Adults Category.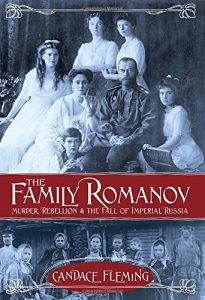 To see our other nominations and learn more about this award, visit our previous post Compass Book Ratings' Nominees Make Finalist Round For Cybil Awards.
Remember, not only are you getting great content reviews from Compass Book Ratings, but our reviewers have excellent taste.   We have started to accelerate our book review posting so if you rely on the home page to keep up-to-date, be aware that due to the increased volume in reviews lately, books are only staying on our home page for about one week.  Check often so you don't miss a great read.
Happy Reading!
– Cindy M., Executive Editor