[share title="Share this Page" facebook="true" twitter="true" google_plus="true" linkedin="true" pinterest="true" reddit="true" email="true"]
Take a break from school reading to read what you want!  Summer reading is the best, whether it is at the beach, in your bed, or in a tree house.  We have selected 12 terrific reads to fill your 12 weeks of summer.  There were a lot of great options this year in the middle grade category because there have been a lot of great releases this spring.
Click on Book Cover to See Full Book Review
[share title="Share this Page" facebook="true" twitter="true" google_plus="true" linkedin="true" pinterest="true" reddit="true" email="true"]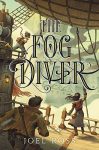 #1 – An Award Winner
This book was the winner of the middle grade speculative fiction category for the 2015 Cybil Awards.  It is has a dystopian setting with steampunk pirates.  Yes, sounds fun and perfect for summer!
 #2 – A Graphic Novel
Yes! This book was awesome.  Guy readers don't get hung up with the "girl" part of the title.  This was a rockin' graphic novel and come on, it is about roller hockey!  It is a super fast read, too.
#3 – A Play
A play?  Yep. We see prose and sometimes even verse, but a play is a bit unusual.  This author wrote the play for her students who were studying medieval history.  (Bonus:  It won a Newbery, too.) Try it.  Not only does the medium work incredibly well, you will learn a lot and it does make the time period "come alive."
#4 – Something New (As in, it is hot off the presses!)
This book was just published this month.  It has some science and some mystery. It has boy and girl characters.  It is set in a utopia.  Yes, you read that right–utopia.  Dystopian settings are all the rage, but mix it up a bit with this new book.
#5 – Something Funny
Funny reads are perfect for summer.  (Save that 300+ page book about fungus for school.) If the cover doesn't tempt you, then I don't know what will.  Gordon Korman has written A LOT, but if this is your first Korman book, then you are in for a treat.
#6 – An Adventure
There is a reason action movies are so popular in the summer, so it isn't so strange that action and adventure books feel like the perfect beach read. (Of course, if the book is too good then you neglect the water.)
#7 – A Historical Fiction Novel
Regardless of whether you are or aren't taking a trip this summer, take a trip through time to the streets of New York City.  This story is a chance to see thing up-close and personal through the eyes of an eleven-year-old boy.
 #8 – Non-fiction
As our reviewer MaryLou wrote, "Science seriously just got a dose of adorableness." So it is okay if you learn something over the summer.  This is also a graphic novel with great illustrations.  So maybe this one IS the perfect beach read.
#9 – A Treasure Hunt
A treasure, ghosts, a touch of magic–this book has something for everyone.  Plus, the storytelling is first-rate.
#10 – Something Quirky
This one has a lot of bizarre stuff which might be a little too difficult to explain.  It does start with a zucchini colored crayon and goes from there into zany directions. As a bonus, this one is also funny, too.
#11 – A New Series
There is nothing like discovering a new series because you know there is more wonderful reading to come.  Animals, magic, adventure–lots of good stuff here! This is a new series out this year so you will have to wait for installment #2.
#12 – A Western
Westerns used to be a popular genre and setting for books and movies, but these days you don't see them as often.  So it is especially refreshing to have a new middle grade western.  This is another new book out in 2016.
[alert heading="See Our Prior Year Recommendations for MG Summer Reading!" type="info"]2015 Recommendations      2014 Recommendations      [/alert]
[share title="Share this Page" facebook="true" twitter="true" google_plus="true" linkedin="true" pinterest="true" reddit="true" email="true"]
Have an outstanding summer and happy reading! – Cindy M., Executive Editor