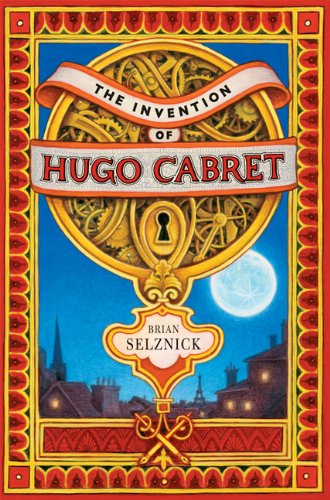 Publisher's Note:
Orphan, clock keeper, and thief, Hugo lives in the walls of a busy Paris train station, where his survival depends on secrets and anonymity. But when his world suddenly interlocks with an eccentric, bookish girl and a bitter old man who runs a toy booth in the station, Hugo's undercover life, and his most precious secret, are put in jeopardy. A cryptic drawing, a treasured notebook, a stolen key, a mechanical man, and a hidden message from Hugo's dead father form the backbone of this intricate, tender, and spellbinding mystery.
This book was sent to Compass Book Ratings for review by Scholastic Press (A Scholastic Imprint)
The Invention of Hugo Cabret
by Brian Selznick
Overall Review:
A literary work of art, The Invention of Hugo Cabret is a story unlike any you've read before. Author Brian Selznick has blended captivating illustrations with an intriguing written story to give us an absolutely unique reading experience. In this book, the illustrations are actually intertwined with the story, telling moments or even whole chapters inbetween the written segments. The author's meticulous attention to detail through his illustrations enriches the story and allows the readers to actually become involved in the adventure as they "read" the pictures.

The Invention of Hugo Cabret is also a deserving recipient of the 2008 Caldecott Award for illustrations. Beautifully engaging, and artfully composed, this book is destined to become a classic. Just as Georges Melier was a pioneer of French film, author Brian Selznick will be credited with contributing to the rise of the graphic novel into popular literature.
Content Analysis:
Refreshingly squeaky clean for all ages, The Invention of Hugo Cabret has only a few very mild instances of content. There is one religious exclamation.
As for violence, there are three exact instances, and all are extremely mild and appropriate for readers of all ages: two children wrestle eachother for control of an item, a remembrance of how a character died in a fire (a simple, straightforward overview of the events, no details at all), and a character's hand is "crunched" in a slamming door.
There is absolutely no sexual content in the story at all. The only worry for sexual content would be for younger readers and comes in the form of two of the pictures in the book: one is a portrait of a man in a toga-like loincloth (a portriat reminiscent of Michelangelo's "Creation of Adam", yet the man is covered), and the other is actually an old photo of a woman in a mermaid costume. Neither of the images is graphic or offensive, but parents may want to be aware of these two. Other images in the book do include a few of monsters and imaginary creatures. Again, these images may only be of concern for readers under the age of 12, and are not violent in nature, but are just portraits of monsters.
Mature Subject Matter:
The mild mature themes rating is for the character who dies in a fire, and themes of orphans and thievery. This book is also highly recommended as a read-aloud for all ages (my youngest, age 3, enjoyed it immensely).
Alcohol / Drug Use:
***
Reviewed By Melissa