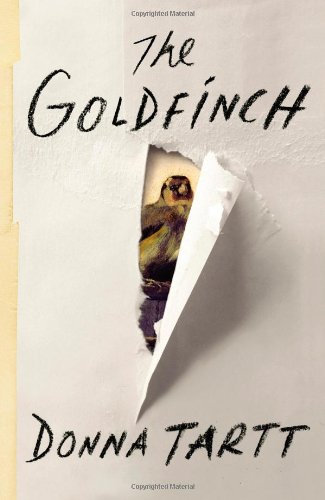 Publisher's Note:
Composed with the skills of a master, The Goldfinch is a haunted odyssey through present day America and a drama of enthralling force and acuity.

It begins with a boy. Theo Decker, a thirteen-year-old New Yorker, miraculously survives an accident that kills his mother. Abandoned by his father, Theo is taken in by the family of a wealthy friend. Bewildered by his strange new home on Park Avenue, disturbed by schoolmates who don't know how to talk to him, and tormented above all by his unbearable longing for his mother, he clings to one thing that reminds him of her: a small, mysteriously captivating painting that ultimately draws Theo into the underworld of art.

As an adult, Theo moves silkily between the drawing rooms of the rich and the dusty labyrinth of an antiques store where he works. He is alienated and in love-and at the center of a narrowing, ever more dangerous circle.

The Goldfinch is a novel of shocking narrative energy and power. It combines unforgettably vivid characters, mesmerizing language, and breathtaking suspense, while plumbing with a philosopher's calm the deepest mysteries of love, identity, and art. It is a beautiful, stay-up-all-night and tell-all-your-friends triumph, an old-fashioned story of loss and obsession, survival and self-invention, and the ruthless machinations of fate.
The Goldfinch
by Donna Tartt
Overall Review:
When I picked up The Goldfinch, I wasn't sure what to expect. I knew it was quite a hefty novel, clocking in at over 700 pages, and that in itself was a little intimidating, but the description on the jacket looked intriguing, and good things were being said about this novel.
The story begins with a teenage narrator, Theo, and follows him as he ages and deals with a tragedy that occurred when he was younger. He loses his parents at a young age, and meets many interesting people as a result of being unsupervised in the city of New York. Theo is also keeping a secret--one that weighs him down and makes him feel as though he must hide from authorities and keep an eye out for any trouble. He is forced to share his secret one day, and this throws him into a new adventure he never would have expected.
I am glad I decided to read this book. It was a bit long, but there was always something that could keep the reader interested; whether it be the introduction of a new character, the killing off of an important character, or an intense scene where you weren't sure who would make it out, sanity intact.
Content Analysis:
Profanity/Language: 4 religious exclamations; 23 mild obscenities; 3 religious profanities; 2 derogatory names; 3 anatomical terms; 34 F-word derivatives
Violence/Gore: A museum is bombed and the aftermath is described, including injured and dead people; a boy is bullied by his brother, and the acts are described briefly; several adults are involved in a shooting, and one is badly injured, with a brief description of the injury, which includes a scene of blood, and cleaning of the wounds; there are several scenes of intense violence involving guns and crime.
Sex/Nudity: A man is suspected to be committing adultery; a man and woman are implied to be sexually active, yet not married; a teen boy is mentioned to have had sex and be sexually active; adults kiss; a young boy is attracted to a young girl.
Mature Subject Matter:
Death of parents; adultery; acts of terrorism; several scenes of intense violence; thievery.
Alcohol / Drug Use:
Adults drink; adults smoke; teens drink; the smell of pot smoke is mentioned; a man is addicted to prescription medications; several times two friends discuss their addiction to drugs and prescription medications.
Reviewed By Lydia