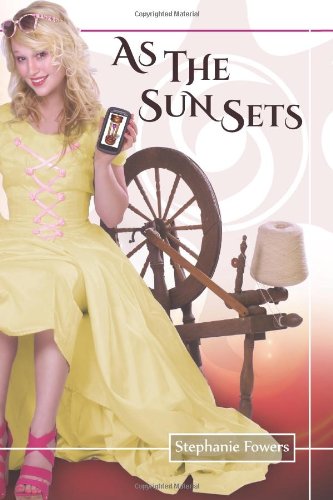 Publisher's Note:
"As the Sun Sets" is the third book in the Twisted Tales Series. It's a YA fantasy. No one bothered to tell Daphne Starr that faerytales are real and because of it, she's stuck in a beanstalk with a beast and a pricked finger. Daphne's sister and stepsister are in big BIG trouble! 1. It's the third and final day 2. Rumpelstiltskin plans to suck their powers dry 3. The queen wants them dead 4. The wolves switched sides 5. The world is about to end 6. And did they seriously expect to keep this all from Daphne? Oh yeah, A LOT of trouble! Because Daphne Starr pricks her finger on a spindle, it awakens the power that was always within her. That's a big time no-no! Now Rumpelstiltskin and some evil queen are after her. Even more annoying, the biggest player at Omak High is a shapeshifter and he goes beast on her, dragging her into a beanstalk and getting them stuck in a time-warp. He won't stop asking her to marry him to get to her powers. I mean, give up already! Sure, it's cool when she scores matching boots with the weirdo cat, and some cute faery guy accidentally tags along for the ride, but . . . Enough is enough already! Halley and Bridgette had better get her out of this--especially since she only has until the battery runs out of her cell phone before she loses . . . to a beast. "Will it be happily ever after or the end?"
This book was sent to Compass Book Ratings for review by the Author
As The Sun Sets
by Stephanie Fowers
Overall Review:
Magic beanstalks, brooding princes, ghosts, and mad scientists—what's not to like? There were several things about the setup to As The Sun Sets that made me unsure about how much I was going to enjoy the final volume in the Twisted Tales trilogy, but—as with the first two books—Stephanie Fowers didn't fail to deliver. By the time I was a few chapters in I was completely engrossed and more than a little in love with the characters. Like its prequels, As The Sun Sets is filled with unpredictable twists and turns that keep you guessing right up until the ending—and what a satisfying ending it is! I found myself closing As The Sun Sets feeling certain that I'd be revisiting this delightful series again later.
Although As The Sun Sets also has some typos and small errors throughout the book, I felt like Fowers' writing had matured significantly through the course of the series, and there were less issues with this book than the previous two. And, like the others in the series, the fantastic plot and characters of As The Sun Sets made up for any frustration I felt with the occasional error.
As The Sun Sets, like its prequels, would be a great read for teens and adults who enjoy fantasy and fairy tales.
Content Analysis:
Profanity/Language: None
Violence/Gore: Throughout the book, there are several frightening/creepy scenes involving ghosts or phantoms (there are about seven of these throughout the book). There are also three brief (<2 pages) combat scenes (wrestling, punches thrown, etc.) and an extended magical battle at the end.
Sex/Nudity: There is flirtation throughout the book. On several occasions, a girl thinks that a guy is attractive (using terms like "hot," etc.). A reference is made to nudity (though nobody is actually described as being nude). Marriage is discussed on several occasions. There are several briefly described kisses. A married woman announces a pregnancy.
Mature Subject Matter:
None noted
Alcohol / Drug Use:
None noted
Reviewed By CindyB