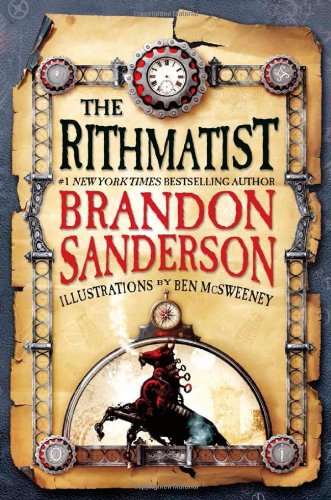 Publisher's Note:
From #1 New York Times bestselling author Brandon Sanderson: his debut novel for the young adult audience
More than anything, Joel wants to be a Rithmatist. Chosen by the Master in a mysterious inception ceremony, Rithmatists have the power to infuse life into two-dimensional figures known as Chalklings. Rithmatists are humanity's only defense against the Wild Chalklings—merciless creatures that leave mangled corpses in their wake. Having nearly overrun the territory of Nebrask, the Wild Chalklings now threaten all of the American Isles.
As the son of a lowly chalkmaker at Armedius Academy, Joel can only watch as Rithmatist students study the magical art that he would do anything to practice. Then students start disappearing—kidnapped from their rooms at night, leaving trails of blood. Assigned to help the professor who is investigating the crimes, Joel and his friend Melody find themselves on the trail of an unexpected discovery—one that will change Rithmatics—and their world—forever.
Bestselling author Brandon Sanderson brings his unique brand of epic storytelling to the teen audience with an engrossing tale of danger and suspense—the first of a series. With his trademark skills in world-building, Sanderson has created a magic system that is so inventive and detailed that that readers who appreciate games of strategy and tactics just may want to bring Rithmatics to life in our world.
The Rithmatist
by Brandon Sanderson
Overall Review:
It is a rare thing to encounter true creativity and originality in literature these days, yet Brandon Sanderson has achieved just that in The Rithmatist. The world Sanderson has conjured is genuinely imaginative. Set in the early 1900's in a world comprised of the United Isles with a hint of steampunk and a unique fantasy premise of drawings that come to life at the hands of a select few Rithmatists, it is a breath of fresh air and a departure from the predictable. The first part of the book reads like a mystery with clues and crime scenes as Sanderson methodically builds his fantasy premise and world, aptly aided by Ben McSweeney's plentiful illustrations. Protagonist, Joel, and his unlikely cohort, Melody, have determination, personality, and brisk banter. Add first-rate pacing and you end up with one of the best young adult books of the year with high appeal to both a female and male audience. Satisfyingly ended, the book concludes with the promise of more to come. Highly recommended!
Content Analysis:
Profanity/Language: None
Violence/Gore: 1 brief, frightening scene with fantasy creatures; general reports of an on-going war/battlefront; a few reports of possible kidnappings or murder with blood found at crime scene, no details; character reads a brief fictional account of fantasy creatures "chewing flesh from bones"; reports of deaths, no details; character reads a journal account of an account of fantasy creatures with some descriptive details of death; chase and attack by fantasy creatures with intent to kill; scene/battle of fantasy violence, non-graphic.
Sex/Nudity: None
Mature Subject Matter:
War; Kidnappings; Death; Social class/conflict; Poverty
Alcohol / Drug Use:
None
Reviewed By Cindy