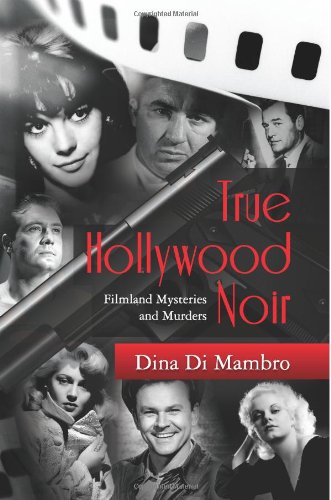 Publisher's Note:
A tantalizing mixture of classic Hollywood nostalgia and true crime, True Hollywood Noir: Filmland Mysteries and Murder, featuring 100 rare photographs, is suspenseful, entertaining, and eminently readable. Uncover true stories of mystery and murder in a dozen different chapters featuring William Desmond Taylor, Thomas Ince, Jean Harlow, Thelma Todd, Joan Bennett, Lana Turner, George Reeves, Gig Young, Bob Crane, Natalie Wood, Robert Blake, and Mickey Cohen. Included in the cast of characters of this book are Johnny Stompanato, William Randolph Hearst, Marion Davies, and Charlie Chaplin. And find never before told mob stories about Ben "Bugsy" Siegel, Virginia Hill, and a host of notorious underworld figures. From 1922 until 2001, explore some of Filmland's most fascinating mysteries, scandals and murders true Hollywood noir lived by the players behind the scenes. Each chapter dissects the various theories in each case, but it is up to you to make up your own mind. From the West Coast mob and city corruption intertwining with Hollywood mysteries on and off the screen, to the plots of noir films pulled from actual happenings in the underworld, get the stories behind the stories, the darker images playing out in living color behind the silver screen. While most of the actors featured here met with untimely tragic deaths or notorious misfortune coloring the remainder of their lives, the talent of these highly creative individuals and the legacy they've left us gives them a timeless immortality.
This book was sent to Compass Book Ratings for review by Cadence Group
True Hollywood Noir: Filmland Mysteries and Murders
by Dina Di Mambro
Overall Review:
Scandal, mystery, speculation and rumor abound in True Hollywood Noir: Filmland Mysteries and Murders by Dina Di Mambro. Readers looking for juicy gossip and inside scoops will find plenty in this book. The author does a nice job of presenting multiple sides to each story and not drawing unsubstantiated conclusions.
There are a lot of black and white photos that lend interest to the stories. Di Mambro helps the reader understand what the people mentioned in the book might really have been like. One chapter did not seem to really fit with the subject of the rest of the book as the featured character was neither an actor nor was he romantically entangled with one. As an added bonus, one of my distant relatives is mentioned a few times.
It should be noted that due to the nature of this book, the content is not sugar-coated for young people as it deals with real life deaths and in many cases murder. Perhaps the saddest part of all is realizing that all of the people in this book were real and either abused by others or abused themselves with various substances. Don't select this for light, uplifting reading material.
Content Analysis:
Profanity/Language: 13 religious exclamations; 1 mild obscenity; 10 religious profanities; 9 derogatory names; 4 scatological words; 3 anatomical terms; 5 f-word derivatives.
Violence/Gore: Several people shot in the head, some blood and tissue descriptions; several reports of people committing suicide; a report of abortion attempts with coat hangers; character drowns; report of character killed in car crash; report that character plays Russian roulette; people hit one another with fists and or objects; report of man beating his wife; character threatens to ice pick another's eyeball; characters threaten other people with guns; black and white photos of dead people, no blood apparent.
Sex/Nudity: Many sexual references including sexual orientation, the words sex or sexuality, dildos; prostitution or other synonyms describing prostitutes; references to strip clubs and unclad strippers, no further details; people are actively making pornography or distributing it; a few mentions of characters' genitals in a clinical fashion; nudity as a condition of several dead bodies; many mentions of people sleeping together, performing marital duties and being sexually involved, no details; reference to a nude love scene on film, no details; brief mention of molestation and rape, no details; many mentions of affairs and infidelity.
Mature Subject Matter:
Murder, divorce, suicide, forgery, marital infidelity, rape, sexual abuse, gangsters, embezzlement, money laundering, gambling, terminal illness, prostitution - both child and adult, making and distributing pornography.
Alcohol / Drug Use:
People consume alcohol in all types of settings and in varying quantities; several people are alcoholics; several characters addicted to drugs; character smells marijuana; character has drug induced hallucinations; people may have been distributing drugs.
Reviewed By Susan