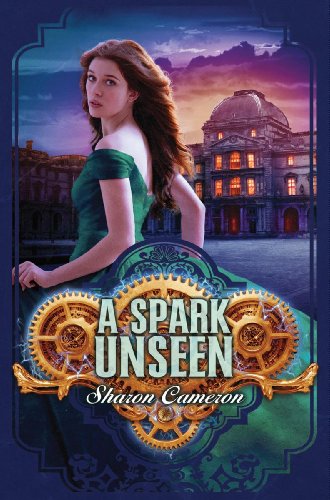 Publisher's Note:
The thrilling sequel to Sharon Cameron's blockbuster gothic steampunk romance, THE DARK UNWINDING, will captivate readers anew with mystery and intrigue aplenty.

When Katharine Tulman wakes in the middle of the night and accidentally foils a kidnapping attempt on her uncle, she realizes Stranwyne Keep is no longer safe for Uncle Tully and his genius inventions. She flees to Paris, where she hopes to remain undetected and also find the mysterious and handsome Lane, who is suspected to be dead.

But the search for Lane is not easy, and Katharine soon finds herself embroiled in a labyrinth of political intrigue. And with unexpected enemies and allies at every turn, Katharine will have to figure out whom she can trust--if anyone--to protect her uncle from danger once and for all.

Filled with deadly twists, whispering romance, and heart-stopping suspense, this sequel to THE DARK UNWINDING whisks readers off on another thrilling adventure.
This book was sent to Compass Book Ratings for review by Scholastic
A Spark Unseen
by Sharon Cameron
Overall Review:
A Spark Unseen is an incredible follow-up to Sharon Cameron's The Dark Unwinding. This historical fiction mystery laced with romance and humor is masterfully written. Katherine Tulman's life has been turned upside down when two rogues break into her home and threaten her life. When she discovers the scoundrels were actually after her brilliant autistic uncle and his inventions, it's decided that they must escape immediately. The plot deepens when a carefully, yet quickly planned trip is taken in attempt to avoid global mass destruction.
Katherine is such a strong and endearing character and her supporting characters add to the entertainment with all sorts of diverse personalities. Of course with a mystery, you can expect plenty of suspense and some great surprises that will keep you captivated. Even though I have not read the first book yet, I didn't feel left in the dark. The book stands well on its own but I really look forward to reading the predecessor to revisit the fantastic characters and appreciate more of Cameron's writing. If you enjoy 19th century historical fiction, mysteries or a light romance, you'll really enjoy this book.
Content Analysis:
Profanity/Language: None
Violence/Gore: Many (32) brief incidents including characters imagining or considering hurting someone; metaphor about cutting own skin; character faking death; thinking about death; verbal threats; insinuation that character cuts self; attempted murders; character threatened with gun; second hand reports of murder and suicide; discussions of war; character seeing many bones of dead people; character hurting self to the point of causing bleeding; character hits another with a brick; character's arm being held too tightly and character thrown into wall; punching and hitting face. Few (2) extended incidents including house broken into then characters threatened and others murdered; fighting with guns and characters suffer from violent death.
Sex/Nudity: Many (29) brief incidents including characters holding arms and hands; remembering a kiss; cheeks and forehead kissed; hugging; flirting; touching neck; character's clothes removed for bath; dead character found topless; illegitimate children.
Mature Subject Matter:
Adults being held against will; illegitimate children; murder and attempted murder; war.
Alcohol / Drug Use:
Adult smoking cigarettes; opium laced wine; child stealing wine; character is a drug smuggler; character attempts to poison someone; adult offered a glass of wine; insinuation of child drinking wine.
Reviewed By Jenny