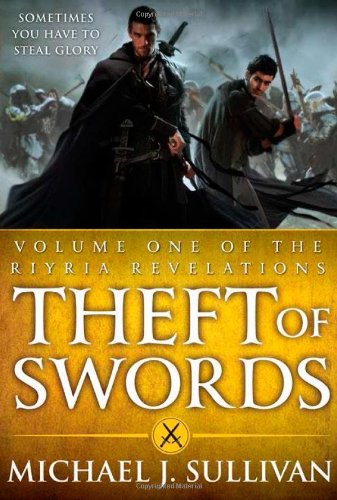 Publisher's Note:
*** Amazon #1 Kindle Best Seller: Epic Fantasy, Historical Fantasy, Sword & Sorcery, Men's Adventure ***
They killed the king. They pinned it on two men. They chose poorly.
There's no ancient evil to defeat or orphan destined for greatness, just unlikely heroes and classic adventure. Royce Melborn, a skilled thief, and his mercenary partner, Hadrian Blackwater, are running for their lives when they're framed for the death of the king. Trapped in a conspiracy that goes beyond the overthrow of a tiny kingdom, their only hope is unraveling an ancient mystery before it's too late.
When author Michael J. Sullivan self-published the first books of his Riyria Revelations, they rapidly became ebook bestsellers. Now, Orbit is pleased to present the complete series for the first time in bookstores everywhere.


BOOKS IN THE RIYRIA REVELATIONS
Theft of Swords (contains: The Crown Conspiracy & Avempartha)
Rise of Empire (contains: Nyphron Rising & The Emerald Storm)
Heir of Novron (contains: Wintertide & Percepliquis)
This book was sent to Compass Book Ratings for review by the Author
Theft of Swords
by Michael J. Sullivan
Overall Review:
Inspired by Lord of the Rings and his daughter, author Michael J. Sullivan tells a tale that is fun, filled with action, and deadly serious in its scope.
The Theft of Swords is actually two books in one. Both The Crown Conspiracy and Avempartha were published previously by the author. Publisher Orbit then picked up the books and combined them, resulting in what would be a three book series. These books are truly separate, so they need to be talked about separately. However, all the books are connected and Mr. Sullivan's intention was to go from small in the first book, to build the story into something much larger in later books.
The first book, The Crown Conspiracy, honestly does hearken back to a Lord of the Rings-feel. It by no means copies that work; it just has a similar adventurous feel. The characters are fun, and the reader gets to know them quickly. Hundreds of pages are not spent developing character; Sullivan quickly lets you understand the characters. Pacing is wonderful and the story intriguing.
The second book, Avempartha, has one flaw. The pacing seems a little slow, and it drags the narrative a bit. However, this is clearly a building book, because by the end of this second story, which takes place a couple years after the first, the reader sees things growing massively. Big things are about to happen, it just took a little while to get there.
Overall, this two book collection is a fun book to read. If you need something just to keep you entertained for a few days or weeks this is an excellent book to grab.
Content Analysis:
Profanity/Language: 7 religious exclamations; 24 mild obscenities; 5 derogatory names; 1 scatological word; 8 anatomical terms.
Violence/Gore: Several threats of violence and death; a character explains violent actions a thief may take; talk of a woman being ran over; joke about eyelids and fingernails being removed; man is found in pool of blood; talk of how to execute prisoners in violent ways; a man is knocked out; conversation of an entire village being slaughtered; report of a religious facility being burned along with monks (alive); political discussion regarding acts of violence; story of a man betraying and murdering his family; report of a beating of an ecclesiastical leader; an off screen death mid-scream; scenes of graphicbattle/swordplay; descriptive gore; a man finds a head in his room; a character is almost raped; friendly sword play; several violent deaths.
Sex/Nudity: A character has thoughts of forcing a girl into his bed; A man pulls a barmaid to his lap and touches her; girl sits on a character's lap and pours him wine as he holds her, kissing her neck; a few references to whores/prostitutes; references and non-sexual entrances into brothels; a woman's bare back is exposed in bed; a theological discussion concerning a deity and his incestuous relations; characters hold hands and kiss.
Mature Subject Matter:
Crime; Torture; Ethical and Political Issues; Religion; War; Death; Social Conflict
Alcohol / Drug Use:
Casual drinking; scenes in bars with drunken people about.
Reviewed By GuestReviewer