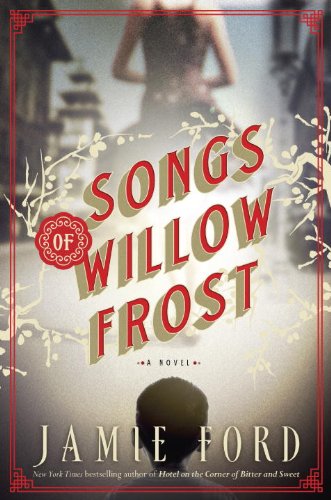 Publisher's Note:
From Jamie Ford, the New York Times bestselling author of the beloved Hotel on the Corner of Bitter and Sweet, comes a much-anticipated second novel. Set against the backdrop of Depression-era Seattle, Songs of Willow Frost is a powerful tale of two souls—a boy with dreams for his future and a woman escaping her haunted past—both seeking love, hope, and forgiveness.

Twelve-year-old William Eng, a Chinese American boy, has lived at Seattle's Sacred Heart Orphanage ever since his mother's listless body was carried away from their small apartment five years ago. On his birthday—or rather, the day the nuns designate as his birthday—William and the other orphans are taken to the historical Moore Theatre, where William glimpses an actress on the silver screen who goes by the name of Willow Frost. Struck by her features, William is convinced that the movie star is his mother, Liu Song.

Determined to find Willow and prove that his mother is still alive, William escapes from Sacred Heart with his friend Charlotte. The pair navigate the streets of Seattle, where they must not only survive but confront the mysteries of William's past and his connection to the exotic film star. The story of Willow Frost, however, is far more complicated than the Hollywood fantasy William sees onscreen.

Shifting between the Great Depression and the 1920s, Songs of Willow Frost takes readers on an emotional journey of discovery. Jamie Ford's sweeping novel will resonate with anyone who has ever longed for the comforts of family and a place to call home.
This book was sent to Compass Book Ratings for review by Ballantine Books
Songs of Willow Frost
by Jamie Ford
Overall Review:
Jamie Ford follows his successful debut novel, Hotel on the Corner of Bitter and Sweet, with Songs of Willow Frost. Willow, like his first novel, is set in the Chinatown section of Seattle, follows a young Chinese boy, and jumps back and forth in time. However, for all its similarities, this novel is very much its own story. This is a book filled with personal sorrow and loneliness and at times it gives Shakespearean tragedy a run for its money. Nevertheless, Mr. Ford's characters and his gift for atmosphere absolutely compel the reader to finish the journey; it is futile to resist.
Although I did not adore Songs of Willow Frost as I did Hotel on the Corner of Bitter and Sweet, I cannot deny that it was a powerful story of the effect of poverty and effect of family ties--both the presence and the lack thereof. The story has continued to haunt me long after I turned the last page, and isn't that what great writing is all about?
Content Analysis:
Profanity/Language: 2 mild obscenities; 3 derogatory names.

Violence/Gore: A couple of reports of children being whipped at orphanage; implied suicide; reports of suicide during Great Depression; death of a character due to illness/lack of food; threat to harm; abortion considered; one brief scene of suicide, a few details; a brief scene in which a character is raped with a few details; report that someone cried blood; report of scenes of abuse/violence in a movie, no details; blood mentioned in association with miscarriage.

Sex/Nudity: Several sexual references including but not limited to--brothels, father "ran off w/some woman", character being propositioned, teasing/implications about a boy and girl being alone, character's hypothesis that bedwetting is caused by boys illicitly touching themselves, etc.; a brief scene in which a character is raped with a few details; implication that rapes routinely continued; a few implications/innuendo that a father sexually abused his daughter; implied sexual activity in a mistress-like arrangement.
Mature Subject Matter:
Rape; Orphanages; Prostitution/Mistress; Cultural/Ethnic Issues/Discrimination; Poverty; Sexual abuse/Incest; Unemployment; Spouse Abuse; Suicide; Pregnancy Out of Wedlock.
Alcohol / Drug Use:
Adult characters drink and smoke, some to excess; a teenage girl smokes; references to Prohibition and speakeasies; a Sister (nun) drinks alcoholic drinks.
Reviewed By Cindy