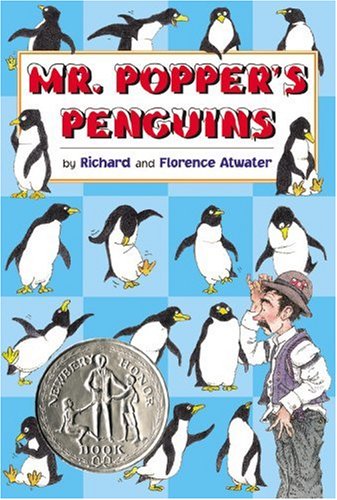 Publisher's Note:
A classic of American humor, the adventures of a house painter and his brood of high-stepping penguins have delighted children for generations.
Mr. Popper's Penguins
by Richard and Florence Atwater
Overall Review:
Sometimes the books of our childhood don't live up to our fond memories when we revisit them as adults. This is definitely not the case with Mr. Popper's Penguins! Mr. Popper's Penguins was just as enchanting and delightful as I had remembered it. Written in 1938, certain modern readers may find some of the attitudes provincial, but I found everything to be charming. Although this book is perfect for the youngest reader, the penguins and their antics are irresistible and older readers will also find themselves bewitched. There is something affirming about wonderful and unexpected things happening to ordinary people. If you are only acquainted with the recent (and modified) Hollywood version of this novel, then treat yourself to the original.
There is a great audiobook edition of this book, read by Nick Sullivan. It comes complete with some sound effects and music.
Content Analysis:
Profanity/Language: None
Violence/Gore: Report of the death of a pet when it becomes a snack for another animal; animals "box" each other in a humorous fashion; an animal gets a spank on the bottom.
Sex/Nudity: None
Mature Subject Matter:
None
Alcohol / Drug Use:
Man smokes a pipe.
Reviewed By Cindy