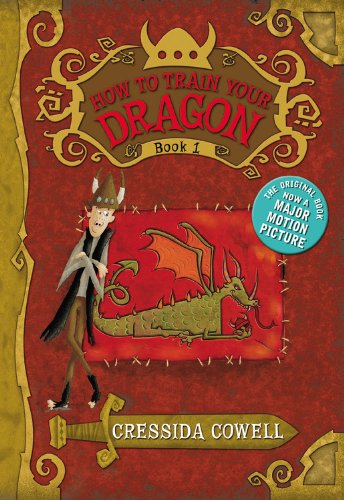 Publisher's Note:
Chronicles the adventures and misadventures of Hiccup Horrendous Haddock III as he tries to pass the important initiation test of his Viking clan, the Tribe of the Hairy Hooligans, by catching and training a dragon.
How to Train Your Dragon
by Cressida Cowell
Overall Review:
I picked this up after loving the movie. This is very different than the movie. Yes, this is normal for books vs. movies, but this is one time I liked the movie more. Much more. The only redeeming value of the book was the end. It is your basic 'loser-kid-overcomes-gigantic-odds-and-surprises-everyone' (except the reader). I suppose if you're out to write a book to enthrall young boys, then this has it all: from potty humor to proving yourself. I did find myself laughing out loud with my kids at a few parts, but I do wish I would have read it on my own before I suggested reading it together. If you want some inspiring literature—or even a really good story—you'll probably want to look elsewhere.
Content Analysis:
While there 'technically' isn't any profanity (unless you, like my daughter, count 'stupid' as a bad word, in which case this has quite a few bad words!), the language borders on the crude and rude. While reading this aloud to my children, I found myself skipping parts of sentences and paragraphs. There are characters with names that included words such as 'belch', 'snotface', 'baggybum', etc. It's not 'bad', but if you're trying to steer your little ones away from the bathroom humor, this isn't a helpful book.
There is no sexual content (unless you want to count the use of a bra as a bomb).
Since this is a book about dragons and Vikings, there is some violence. Some of the characters are very aggressive. There is a lot of dragon fighting. A dragon explodes, and it is a bit gross. All violence is mild, but could induce some 'copycat' behavior—especially in young boys.
Mature Subject Matter:
As far as themes to talk about, there is the violent behavior and tendencies of the tribes and their initiations, and dealing with expectations and relationships between children and parents.
Alcohol / Drug Use:
***
Reviewed By Emily