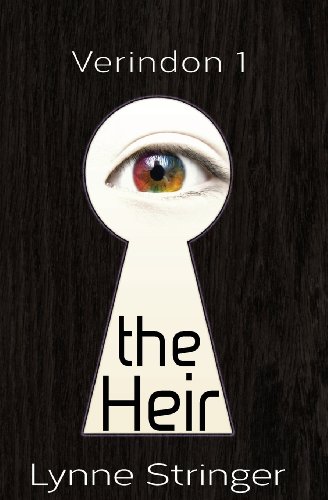 Publisher's Note:
Sarah hates the prestigious high school she attends. Most of the
other students ignore her. School is only made tolerable by the presence of Dan Bradfield, the boy she adores. Dan is the heir to his father's multinational computer company, but he is dating Sarah's best friend, Jillian.

When tragedy strikes, Dan is the one who is there for Sarah, but she can't shake the feeling there is something strange about him. Is he protecting her from something? Is there something going on that she doesn't know about?

And did she really see a monster in the bushes?

Sarah is desperate to uncover the truth, but it could take her to
another galaxy, and change everything she believes about who she is. Will it bring Dan and Sarah closer together or tear them apart?

The Heir is the first book in the Verindon Trilogy.
This book was sent to Compass Book Ratings for review by Wombat Books
The Heir
by Lynne Stringer
Overall Review:
The Heir by Lynn Stringer is an enthralling sci-fi story about a girl named Sarah who is more than she appears to be. The story has a strong romantic and emotional plotline reminiscent of New Moon by Stephanie Meyer. The characters are well-rounded and complex. The pacing of this novel was written so that plot progression really only occurred every other chapter. This became frustrating when I had figured out what was going on, but it took the protagonist, Sarah, five to ten chapters to come to the same conclusion. However, the actual plotline was gripping, and the suspense was so strong it lasted throughout the slow-paced chapters. There will be two more books in the series and I'm excited to read them! Overall, I would recommend this book to both sci-fi fans and romantic fiction lovers who like emotional plotlines just as well as, if not more than, plots full of action!
Content Analysis:
Profanity/Language: 6 mild obscenities.
Violence/Gore: Threats to hurt others; reports of violence; a dead body and gore; non-life threatening injuries; brief scenes of violence; destruction of property; sci-fi violence (with lasers, technologically advanced weapons, etc.).
Sex/Nudity: Flirtation; kissing; hugging; hand-holding; touching; brief instance of sexual harassment.
Mature Subject Matter:
Sexual harassment, death of a family member.
Alcohol / Drug Use:
None
Reviewed By Annelise