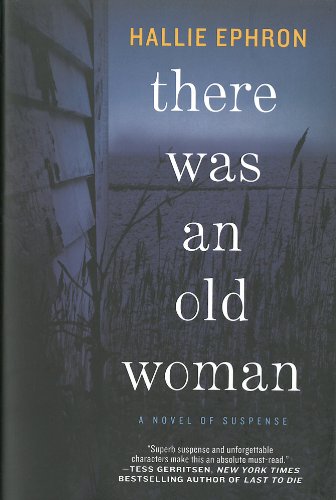 Publisher's Note:
There Was An Old Woman by Hallie Ephron is a compelling novel of psychological suspense in which a young woman becomes entangled in a terrifying web of deception and madness involving an elderly neighbor.
When Evie Ferrante learns that her mother has been hospitalized, she finds her mother's house in chaos. Sorting through her mother's belongings, Evie discovers objects that don't quite belong there, and begins to raise questions.
Evie renews a friendship with Mina, an elderly neighbor who might know more about her mother's recent activities, but Mina is having her own set of problems: Her nephew Brian is trying to persuade her to move to a senior care community. As Evie investigates her mother's actions, a darker story of deception and madness involving Mina emerges.
In There Was an Old Woman, award-winning mystery author Hallie Ephron delivers another work of domestic noir with truly unforgettable characters that will keep you riveted.
There Was an Old Woman
by Hallie Ephron
Overall Review:
If you are looking for a mystery novel to keep you interested and even a bit confused (in a good way), then I suggest you try this short read. It is just the right length to have a good amount of story and mystery mixed together, and it leaves you wondering what is going to happen next. Unlike some mysteries, this one isn't filled with guns and killing, and you will want to add Hallie Ephron to your list of authors to read more of.
I was able to finish this book in one day, so the story was kept fresh in my mind, and I didn't have a hard time following all of the characters. The narration skips around a bit, and sometimes when books have more than one narrator they can be hard to follow and understand, but that was not the case with this book. I would highly recommend you read There was an Old Woman sometime in the near future if you like lightly suspenseful books. However, if you like intense mysteries, like I do, this book might be a little on the slow side. I suggest this book on a day when you need a break from being scared or being held in suspense.
Content Analysis:
Language/Profanity: 4 religious exclamations; 4 mild obscenities; 2 anatomical terms.
Violence/Gore: None

Sex/Nudity: Two adults kiss briefly.
Mature Subject Matter:
Death of parent; death of a friend.
Alcohol / Drug Use:
Adults smoke cigarettes several times; an old woman is an alcoholic and almost dies from alcoholism; adults drink beer and wine casually.
Reviewed By Lydia