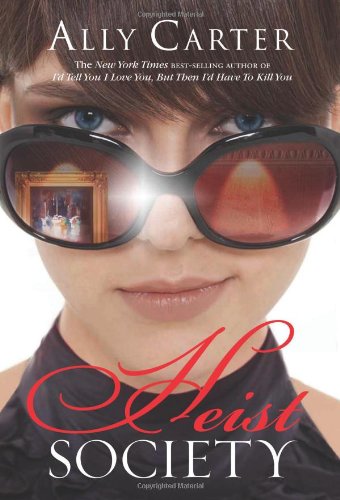 Publisher's Note:
When Katarina Bishop was three, her parents took her on a trip to the Louvre...to case it. For her seventh birthday, Katarina and her Uncle Eddie traveled to Austria...to steal the crown jewels. When Kat turned fifteen, she planned a con of her own--scamming her way into the best boarding school in the country, determined to leave the family business behind. Unfortunately, leaving "the life" for a normal life proves harder than she'd expected. Soon, Kat's friend and former co-conspirator, Hale, appears out of nowhere to bring her back into the world she tried so hard to escape. But he has good reason: a powerful mobster has been robbed of his priceless art collection and wants to retrieve it. Only a master thief could have pulled this job, and Kat's father isn't just on the suspect list, he is the list. Caught between Interpol and a far more deadly enemy, Kat's dad needs her help. For Kat there is only one solution: track down the paintings and steal them back. So what if it's a spectacularly impossible job? She's got two weeks, a teenage crew, and hopefully just enough talent to pull off the biggest heist in history--or at least her family's (very crooked) history.
This book was sent to Compass Book Ratings for review by Hyperion Books for Children (A Disney Imprint)
Heist Society
by Ally Carter
Overall Review:
Meet Kat, a cleverly believable fifteen-year-old sleuth in a cast of sassy characters on a mission to save Kat's dad from a dark enemy with a bad reputation. As the daughter of a professional thief, Kat has always been his assistant by necessity, not by choice. Then there's Hale, Kat's gorgeous guy friend and willing accomplice. Although Kat's left the family business once and for all, Hale's begging her back into it and she's in over her head. As she assembles her own group of teenage partners in crime while running around the globe, you will feel you are right along with her. In a witty escapade that cannot be put down, there were no wasteful words -- a brilliant adventure with just the right amount of love and intrigue. Since I enjoyed Heist Society so much, I will definitely be looking for more from this ingenious author, Ally Carter!
Content Analysis:
A refreshingly clean, enjoyable read. Nothing much to complain about, but if I must be picky, there is one character who is noted for her ample chest, long legs and short skirts. Also a brief question of male nudity, although it doesn't turn out to be actual nudity. Another character is noted to have an ample chest in quite a few instances, although not in an overly sexual way.
Mature Subject Matter:
Crime.
Alcohol / Drug Use:
***
Reviewed By SqueakyCleanReads