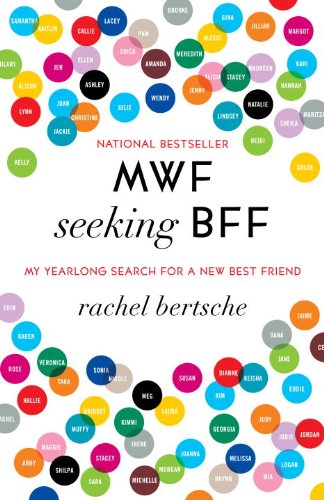 Publisher's Note:
When Rachel Bertsche first moves to Chicago, she's thrilled to finally share a zip code, let alone an apartment, with her boyfriend. But shortly after getting married, Bertsche realizes that her new life is missing one thing: friends. Sure, she has plenty of BFFs—in New York and San Francisco and Boston and Washington, D.C. Still, in her adopted hometown, there's no one to call at the last minute for girl talk over brunch or a reality-TV marathon over a bottle of wine. Taking matters into her own hands, Bertsche develops a plan: She'll go on fifty-two friend-dates, one per week for a year, in hopes of meeting her new Best Friend Forever.

In her thought-provoking, uproarious memoir, Bertsche blends the story of her girl-dates (whom she meets everywhere from improv class to friend rental websites) with the latest social research to examine how difficult—and hilariously awkward—it is to make new friends as an adult. In a time when women will happily announce they need a man but are embarrassed to admit they need a BFF, Bertsche uncovers the reality that no matter how great your love life is, you've gotta have friends.
MWF Seeking BFF
by Rachel Bertsche
Overall Review:
The science of friend-making is very complex. I have never had many friends, and when I saw this book on the shelf at Target, I knew it would be something I would be interested in. Rachel walks you through a year of her quest for friends and the lengths a person can go to just to make a new BFF. If you have read and enjoyed Gretchen Rubin's The Happiness Project, then this book will appeal to you. It is written in the same style, with lots of facts peppered throughout the story, but no textbook feel to it. If you have ever wondered what it would be like to move to a new city where there are thousands of potential friends, but no clear answer to where your search for a "bestie" can be found, then I would recommend this book. Even if you don't think you need any new friends, or don't want any, MWF seeking BFF is an interesting non-fiction book that can appeal to young and old readers alike.
Content Analysis:
Profanity/Language: 1 Religious exclamation; 1 mild obscenity.
Violence/Gore: None
Sex/Nudity: The author meets up with a potential friend who turns out to be gay, but nothing sexual transpires.
Mature Subject Matter:
None
Alcohol / Drug Use:
The author and her friends often go out for drinks to unwind or get to know each other.
Reviewed By Lydia