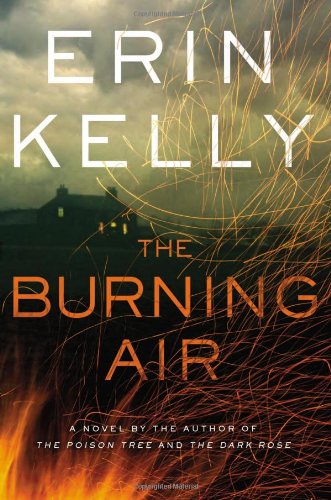 Publisher's Note:
The MacBrides lead a cozy life of upper class privilege: good looks (more or less), a beautiful home, tuition-free education at the prestigious private school where Rowan is headmaster, an altruistic righteousness inherited from magistrate Lydia.

But when Rowan and his three grown children gather for the first time since Lydia's passing at the family's weekend home—a restored barn in the English countryside—years of secrets surface, and they discover a stranger in their midst. A stranger who is convinced that Lydia was a murderer. A stranger who has been exacting vengeance upon the family for years without their ever knowing. And one who will threaten the youngest MacBride, baby Edie, and the clan's memory of Lydia, shattering their world forever.

The Burning Air is Erin Kelly's most chilling novel yet­—a novel that fans of Sophie Hannah and Kate Atkinson will find spellbinding.
The Burning Air
by Erin Kelly
Overall Review:
With a detailed backstory, and plenty of suspense, this book kept me reading even though it didn't have me completely enthralled right from the beginning. Though British, it reminded me slightly of Gone Girl because of its deeply psychological side. The characters were a very angry bunch, and they all seemed intent on getting revenge against their enemies one way or another. While holding a grudge or two may be typical, their issues with each other ran a bit to the extreme. With most books it is fairly easy to deduce which characters we can most relate to and might enjoy having a cup of coffee with in real life. That was not the case with this book. It is more likely you would read about these people in the news for committing a crime!
I rated this book three stars because the story jumped around a lot and was hard to follow. However, if you enjoy mysteries and like to keep up on new ones, this might be something you want to pick up!
Content Analysis:
Language/Profanity: 20 religious exclamations; 20 mild obsceneties; 6 religious profanities; 4 anatomical terms; 29 F-word derivatives.
Violence/Gore: A man bashes a girl's head against a wall in anger; there is a short fight between several of the characters; a man is briefly described after he has been murdered, broken bones and blood are mentioned briefly.
Sex/Nudity: A man describes taking advantage of his female roommate; a man refers to a woman as a "good shag"; a box of condoms is mentioned; there is one scene where a charcter comes upon a couple kissing in the street.
Mature Subject Matter:
Death of a loved one; hysterectomy; vasectomy; murder; kidnapping; sex.
Alcohol / Drug Use:
There are several instances where the adult characters drink wine; a man is depicted drinking brandy; beer is offered at a family gathering; a woman is said to be slightly drunk on red wine.
Reviewed By Lydia