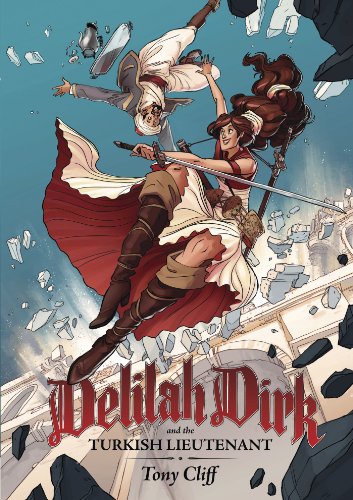 Publisher's Note:
Lovable ne'er-do-well Delilah Dirk is an Indiana Jones for the 19th century. She has traveled to Japan, Indonesia, France, and even the New World. Using the skills she's picked up on the way, Delilah's adventures continue as she plots to rob a rich and corrupt Sultan in Constantinople. With the aid of her flying boat and her newfound friend, Selim, she evades the Sultan's guards, leaves angry pirates in the dust, and fights her way through the countryside. For Delilah, one adventure leads to the next in this thrilling and funny installment in her exciting life.
A little bit Tintin, a little bit Indiana Jones, Tony Cliff's Delilah Dirk and the Turkish Lieutenant is a great pick for any reader looking for a smart and foolhardy heroine...and globetrotting adventures.
This book was sent to Compass Book Ratings for review by First Second Books
Delilah Dirk and the Turkish Lieutenant
by Tony Cliff
Overall Review:
A beautifully illustrated, sweet story of unlikely friendship and duty. Tony Cliff's gorgeous artwork brings this graphic novel to life. His expressive characters and rich backgrounds make this a worthwhile read. Through beautiful pictures, we are taken back to the Middle East of the early 19th century where a delightfully-portrayed woman is the swashbuckling hero.
The story line is definitely the weaker half of this book, but graphic novels have a little more leeway in this area than chapter books do. We don't get a lot of resolution or even details in the words, which was a slight disappointment. The artwork, however, provides plenty of story all by itself. I look forward to Cliff's future endeavors.
Content Analysis:
Profanity/Language: 3 mild obscenities.
Violence/Gore: Characters fight with swords, guns, explosives, hands, with no gore; a character's hand is cut with very little blood shown; a character dreams he is decapitated, but no blood is shown.
Sex/Nudity: None
Mature Subject Matter:
Robbery/thieving, revenge.
Alcohol / Drug Use:
None
Reviewed By Leslie