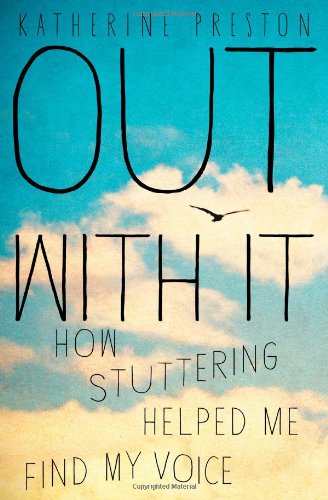 Publisher's Note:
A vividly powerful memoir of a young woman who fought for years to change who she was until she finally found her voice and learned to embrace her imperfection.
Imagine waking up one day to find your words trapped inside your head, leaving you unable to say what you feel, think, want, or need. At the age of seven that happened to Katherine Preston. From that moment, she began battling her stutter and hiding her shame by denying there was anything wrong. Seventeen years later, exhausted and humiliated, she made a life-changing decision: to leave her home in London and spend a year traveling around America meeting hundreds of stutterers, speech therapists, and researchers. What began as a vague search for a cure became a journey that debunked the misconceptions shrouding the condition, and a love story that transformed her conception of what it means to be normal.
Shedding light on an ancient condition that affects approximately 4 million people in the United States and 60 million people worldwide, Preston has assembled an anthology of expertise and experience. In addition to specialists in the field, she interviews celebrities, writers, musicians, social workers, psychologists, and financiers—men and women from all walks of life battling their difficulties with speech. A heartwarming memoir and a journalistic feat, Out With It is more than a chronicle of one of the most prevalent speech problems in the world; it's a story about understanding yourself, and learning to embrace the voice within.
This book was sent to Compass Book Ratings for review by Atria
Out With It: How Stuttering Helped Me Find My Voice
by Katherine Preston
Overall Review:
As a speech pathologist, I was instantly drawn to Katherine Preston's debut novel. Out With It details Preston's life as a stutterer, yet it's so much more than a book about stuttering. Preston's story focuses on family and friendships, love and pain, happiness and acceptance. It's an inspiring read for anyone facing life's difficulties.
With a warm and friendly tone, Preston makes her experiences interesting, intimate and candid. Many of Preston's recollections had me either laughing out loud or wiping tears from my eyes. Preston's interviews with countless Americans who stutter (some famous and others not) provide helpful insight into the fluency difficulties so many face. Out With It includes resources and websites to organizations for people who stutter. This is a well-written, informative and enjoyable read.
For interested readers, there was an author interview by the Today Show which may be viewed at http://www.today.com/books/out-it-author-recounts-lifelong-struggle-speech-disorder-6C10588109
Content Analysis:
Profanity/Language: 2 religious exclamations; 12 mild obscenities; 3 scatological words; 1 anatomical term;1 f-word derivative.
Violence/Gore: Mention of a man who commits suicide.
Sex/Nudity: A few incidents of kissing; a sexual reference.
Mature Subject Matter:
Underage drinking and alcohol dependency, smoking, bullying, discrimination
Alcohol / Drug Use:
Drinking and smoking occur.
Reviewed By Rachel