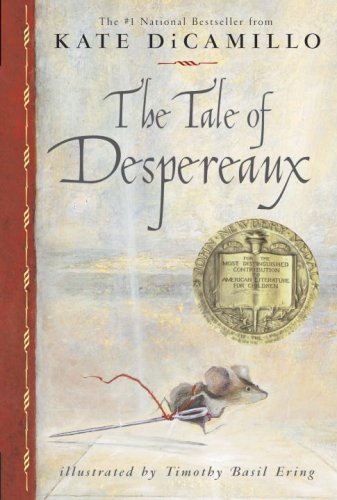 Publisher's Note:
Welcome to the story of Despereaux Tilling, a mouse who is in love with music, stories, and a princess named Pea. It is also the story of a rat called Roscuro, who lives in the darkness and covets a world filled with light. And it is the story of Miggery Sow, a slow-witted serving girl who harbors a simple, impossible wish. These three characters are about to embark on a journey that will lead them down into a horrible dungeon, up into a glittering castle, and, ultimately, into each other's lives. What happens then? As Kate DiCamillo would say: Reader, it is your destiny to find out.

From the master storyteller who brought us BECAUSE OF WINN-DIXIE comes another classic, a fairy tale full of quirky, unforgettable characters, with twenty-four stunning black-and-white illustrations by Timothy Basil Ering. This paperback edition pays tribute to the book's classicdesign, featuring a rough front and elegant gold stamping.
The Tale of Despereaux: Being the Story of a Mouse, a Princess, Some Soup and a Spool of Thread
by Kate DiCamillo
Overall Review:
If you had the misfortune of seeing the Hollywood movie adaptation of this book a few years ago, please cast that monstrosity from your mind; it did the book a great injustice. The Tale of Despereaux is a fairy tale full of love, hope, despair, tragic characters, and brave characters. It offers something to all readers, regardless of age. Author DiCamillo crafts depth and life in each character--from the hero, Despereaux, to one of the victims of life, Mig. DiCamillo doesn't shy away from sadness, but strikes the right balance between the light and the dark for young readers. Stylistically, the novel is written in a manner that makes it perfect for a read-aloud and it is enhanced by endearing illustrations. One of the most enchanting children's book I have read...ever.
Content Analysis:
Profanity/Language: None
Violence/Gore: General threats and threats of death; reported death of 3 separate characters; a character's tail is chopped off; scene where character encounters the skeletons and other remains of mice; a character pokes another character with a needle; kidnapping.
Sex/Nudity: None
Mature Subject Matter:
Death of a family member, physical abuse of a child,
Alcohol / Drug Use:
Character trades for cigarettes.
Reviewed By Cindy