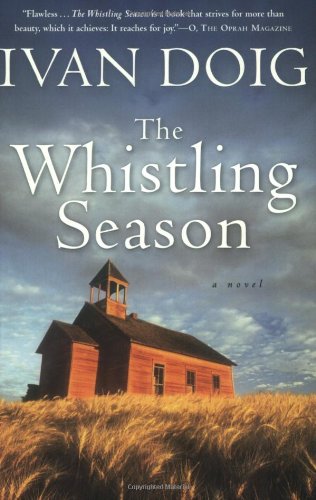 Publisher's Note:
"Can't cook but doesn't bite." So begins the ad offering the services of an "A-1 housekeeper" that draws the attention of widower Oliver Milliron in the fall of 1909. And so also begins the unforgettable season that deposits the noncooking, nonbiting, ever-whistling Rose Llewellyn and her font-of-knowledge brother, Morris Morgan, in Marias Coulee, Montana. When the schoolmarm runs off with an itinerant preacher, Morris is pressed into service, setting the stage for the "several kinds of education"—none of them of the textbook variety—Morris and Rose will bring to Oliver, his three sons, and the rambunctious students in the region's one-room schoolhouse.


A paean to a vanished way of life and the eccentric individuals and idiosyncratic institutions that made it fertile, The Whistling Season is Ivan Doig at his evocative best.
The Whistling Season
by Ivan Doig
Overall Review:
The Whistling Season quickly won my heart. The story is delightful and captivating, but the writing is absolutely stunning. Wallace Stegner came to mind more than once as I read. Doig somehow inherited Stegner's genius for storytelling, particularly in writing about the West, but he adds his own fresh, witty style. I couldn't put the book down.
Rich, full characters with high moral standards and the ability to meet all challenges with integrity make this story even more compelling to read. We follow a young man through a critical teenage year as he shows maturity and depth of character that are not unrealistic but truly impressive. He makes his share of mistakes too, which are often hilarious. Flash forwards to a present-day dilemma that is solved by reflecting on the past are poignant and compelling.
The exciting denouement at the end of the book is icing on the cake. I'm recommending The Whistling Season to everyone I know!
Content Analysis:
Profanity/Language: 12 mild obscenities; 1 derogatory name.
Violence/Gore: Two teens fistfight; a student accidentally hits a teacher; a character's foot is crushed by a horse; a character kills an animal brutally; a character has severe nightmares; a character finds another character dead of causes incident to age; two characters are physically threatened but left unharmed.
Sex/Nudity: Two unmarried characters are alleged to have had sexual relations.
Mature Subject Matter:
Death of a family member, gambling, theft.
Alcohol / Drug Use:
None
Reviewed By Leslie