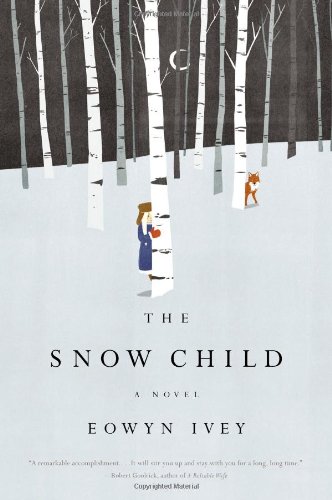 Publisher's Note:
Alaska, 1920: a brutal place to homestead, and especially tough for recent arrivals Jack and Mabel. Childless, they are drifting apart--he breaking under the weight of the work of the farm; she crumbling from loneliness and despair. In a moment of levity during the season's first snowfall, they build a child out of snow. The next morning the snow child is gone--but they glimpse a young, blonde-haired girl running through the trees.

This little girl, who calls herself Faina, seems to be a child of the woods. She hunts with a red fox at her side, skims lightly across the snow, and somehow survives alone in the Alaskan wilderness. As Jack and Mabel struggle to understand this child who could have stepped from the pages of a fairy tale, they come to love her as their own daughter. But in this beautiful, violent place things are rarely as they appear, and what they eventually learn about Faina will transform all of them.
The Snow Child
by Eowyn Ivey
Overall Review:
The Snow Child is the perfect winter read. Set in the breathtaking Alaskan wilderness, first-time novelist Eowyn Ivey will enchant readers with her artistic and vivid prose. It was downright effortless to open this story and find myself in a winter wonderland! Jack and Mabel were solid characters and their hardships, including managing a icy homestead and longing for a child, often pricked my emotions. Ivey carefully sprinkles bits of magic into the couple's journey, allowing readers to draw their own conclusions about the beautiful and mysterious snow child. I utterly loved curling up in front of my fireplace to savor this stunning and splendid fairy tale!
Content Analysis:
Profanity/Language: 27 religious exclamations, 26 mild obscenities, 5 religious profanities
Violence/Gore: A character punches another character; numerous animals are trapped, shot or skinned.
Sex/Nudity: Several incidences of kissing; two non-sexual depictions of nudity where characters take a bath; a sexual reference to improving one's love life; a few implied or reported incidents of sexual activity; two incidences of sexual activity without explicit detail.
Mature Subject Matter:
Death, considered suicide, serious injury.
Alcohol / Drug Use:
A man is reported to have drunk himself to death; a character uses drink as a pain reliever.
Reviewed By Rachel