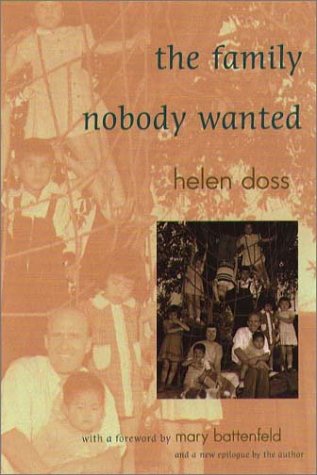 Publisher's Note:
Doss's charming, touching, and at times hilarious chronicle tells how each of the children, representing white, Chinese, Japanese, Filipino, Korean, Mexican, and Native American backgrounds, came to her and husband Carl, a Methodist minister. She writes of the way the "unwanted" feeling was erased with devoted love and understanding and how the children united into one happy family. Her account reads like a novel, with scenes of hard times and triumphs described in vivid prose.

The Family Nobody Wanted, which inspired two films, opened doors for other adoptive families and was a popular favorite among parents, young adults, and children for more than thirty years. Now this edition will introduce the classic to a new generation of readers. An epilogue by Helen Doss that updates the family's progress since 1954 will delight the book's loyal legion of fans around the world.
The Family Nobody Wanted
by Helen Doss
Overall Review:
Growing up, my mom had an old, battered paperback copy of The Family Nobody Wanted. When I was about five, while learning the finer points of reading in the bathtub, I dropped it in the water! I read it several times as a child until I accidentally left it at my violin teacher's house as a preteen and never saw it again. I recently saw a reference to the book and decided to look it up at my local library. Boy, am I glad I did! Helen Doss's memoir tells the story of how their very unusual family—comprised of twelve adopted children of all different races—came to be. Told as a young wife that she would never be able to bear children, Doss experienced years of longing and heartbreak before she and her husband were able to adopt their first child. While trying to adopt a second child, they discovered that while the waiting list for Caucasian children was long, there were many more children who were considered "unplaceable" because of their skin color and racial backgrounds. Applying an incredibly amount of tenacity and perseverance to the problem, Doss eventually convinced an adoption agency to let her adopt a mixed-race child (the social worker, vehemently opposed to the idea, insisted that they couldn't possibly be happy with a child who looked so "different"). Desperate to provide a home for these unwanted orphans, the Dosses eventually end up adopting twelve multiracial children (and fostering two more!). I emerged from this book full of admiration for a woman with enough love, spunk, and heart to not only take in so many children in need, but to make a happy, loving family out of all of them! This is a perfect read for anyone who has ever been touched by adoption, and for anyone who believes in the importance of a loving family.
Content Analysis:
There is no real profanity in the book, but there is one instance in which a character begins to say a minor swear word and then stops and apologizes.
There is some mild violence; a troubled foster child obsesses over wanting a knife, several children play with knives without understanding what they are doing, and a man is severely beaten because of his ethnicity. All of these are handled gently and without any graphicness.
Mature Subject Matter:
Mature themes throughout the novel include racism and bigotry, as well as some passing references to abuse and neglect. Although this is a memoir mostly directed toward adults, because of the large number of funny anecdotes about Doss's children, it could easily be enjoyed by kids and young adults as well!
Alcohol / Drug Use:
***
Reviewed By CindyB