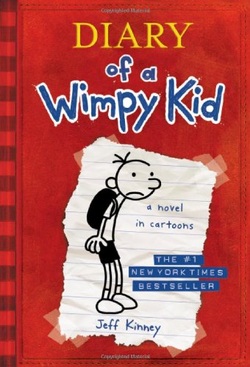 Publisher's Note:
Greg records his sixth grade experiences in a middle school where he and his best friend, Rowley, undersized weaklings amid boys who need to shave twice daily, hope just to survive, but when Rowley grows more popular, Greg must take drastic measures to save their friendship.
Diary of a Wimpy Kid
by Jeff Kinney
Overall Review:
In Diary of a Wimpy Kid we find a classic and fantastically funny example of the foibles, follies and funnies of middle school! We're taken on a tour de force of all the most embarrassing, frustrating, irritating and (most of all) hilarious happenings of childhood: Christmas disappointments, embarrassing school plays, hiding video games, planning out the all-important trick-or-treating route, geeky friends, bullies, wrestling units, tattling brothers, trouble with parents, substitute teachers (yikes!), trying to make the 'Class Favorites' page of the yearbook, and all the other random antics inbetween! The diary/comic strip style of writing makes the reading easy and accessible—and even funnier than it would be otherwise! Greg, our 'hero', lays out his cockeyed sense of what life is all about in a dry, no nonsense style that will keep you in stitches! There are no great literary moments or fascinating character developments; instead, you'll find yourself chuckling as you reminisce about your own days in middle school…or perhaps you'll find a kindred spirit who knows just what you're going through! Hilarious and true to life, Diary of a Wimpy Kid reminds us of many important things, but first and foremost is this: Don't touch The Cheese!
Content Analysis:
There is only one word in this novel that could be construed as profanity. Other than that, there are a few crude references and some 'little boy' humor.
There is no sexual content (although, there is one part where reference is made to a magazine owned by an older brother).
The violence consists of pushing people over in the hallways and throwing things at people. Some of the characters write comic strips that get a little violent—such as stepping in acid puddles, moms slipping and dying (because they stepped on a crack), heads being chopped off, etc.
Mature Subject Matter:
The themes are mostly about life in middle school, which include lying to get your way or get out of trouble, and the meaning of friendship/popularity.
Alcohol / Drug Use:
***
Reviewed By Emily