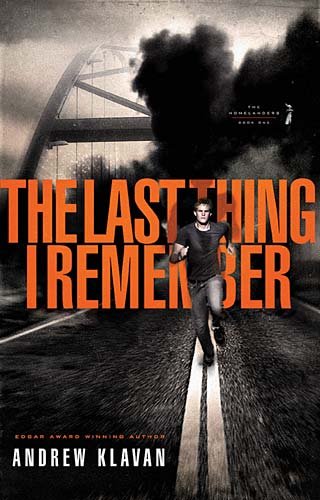 Publisher's Note:
Charlie West just woke up in someone else's nightmare.
He's strapped to a chair. He's covered in blood and bruises. He hurts all over. And a strange voice outside the door just ordered his death.
The last thing he can remember, he was a normal high-school kid doing normal things--working on his homework, practicing karate, daydreaming of becoming an air force pilot, writing a pretty girl's number on his hand. How long ago was that? Where is he now? Who is he really?
And more to the point . . . how is he going to get out of this room alive?
This book was sent to Compass Book Ratings for review by Thomas Nelson
The Last Thing I Remember
by Andrew Klavan
Overall Review:
In this first book of a (completed) four book series called The Homelander Series, Andrew Klavan hooks the reader with immediate page-turning suspense. It became so intense in a few spots that I kept finding myself skipping a few sentences or paragraphs ahead to see the outcome of a stressful situation. Klavan did a fantastic job in developing the main character, Charlie West. You really feel like you know him and want to believe his innocence despite the fact that the last thing he remembers happened a year ago. A lot can be learned from Charlie who just won't give up. The beginning of this novel reminded me a lot of another book I recently read, Dan Haring's Old Soul, and there were some similarities between the two throughout the book. Although Klavan has written several adult novels, this is his first book written for young adults and I hope he continues. I highly recommend this book for both male and female audiences who enjoy a good thriller and I'm looking forward to continuing the series!
Content Analysis:
Profanity/Language: ***

Violence/Gore: Several (17) brief incidents incuding getting shot at; non-verbal and verbal threats; war; murder; karate punch; torture; bomb explosion. Few (4) extended incidents including fighting and shooting.
Sex/Nudity: One incident of sexual innuendo.
Mature Subject Matter:
Drug/alcohol rehab; Mentally disabled.
Alcohol / Drug Use:
Very brief incident of minors drinking behind a grocery store (because a store clerk there will sell it to them).
Reviewed By Jenny