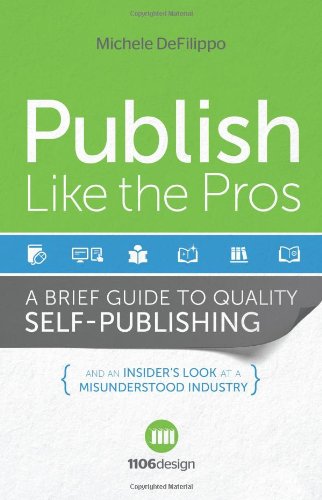 Publisher's Note:
Publish Like the Pros: A Brief Guide to Quality Self-Publishing is a must-read for new authors who want to get it right when self-publishing their books. Self-publishing is a perplexing and ever-shifting landscape; it's easy for authors to get taken in by self-publishing companies that promise the moon but don't deliver. In just 88 pages, Publish Like the Pros takes the confusion out of self-publishing and gives authors the six steps to publishing quality professional books that don't scream "I'm self-published!!" The self-publishing author will find everything he or she needs to get started, including cover design, book titles, typesetting, editing, and proofreading, and a special chapter on book distribution, pricing and marketing.

Written by a book designer with years of experience working with both first-time authors and seasoned publishers, Publish Like the Pros speaks directly to new authors who want to publish a book that they can feel proud of and that sells!
This book was sent to Compass Book Ratings for review by 1106 Design
Publish Like the Pros: A Brief Guide to Quality Self-Publishing and an Insider's Look at a Misunderstood Industry
by Michele DeFilippo
Overall Review:
Publish Like the Pros is a no-nonsense guide for anyone interested in self-publishing their book. It is a quick read and yet is able to offer a comprehensive, step-by-step overview of a process that can seem overwhelming at first.
The book is broken down into logical, easy-to-follow sections that guide the reader from cover design all way through to marketing the completed product. I especially like how the steps, such as interior layout and distribution, are covered in a general way and then websites are listed to help the reader to get started right away with applying this new knowledge. This book is a great reference guide even if you already know a little about self-publishing simply because there are so many resources listed to get you started on your publishing journey.
Anyone who is considering self-publishing should pick-up a copy of this book! Whoever reads it will benefit from the knowledge and experience of Michele DeFilippo and avoid some of the pitfalls experienced by others who have tried to navigate the self-publishing industry alone.
Content Analysis:
Profanity/Language: None
Violence/Gore: None
Sex/Nudity: None
Mature Subject Matter:
***
Alcohol / Drug Use:
***
Reviewed By Ambra