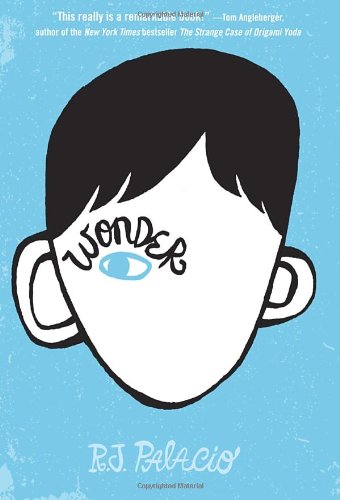 Publisher's Note:
I won't describe what I look like. Whatever you're thinking, it's probably worse.

August Pullman was born with a facial deformity that, up until now, has prevented him from going to a mainstream school. Starting 5th grade at Beecher Prep, he wants nothing more than to be treated as an ordinary kid—but his new classmates can't get past Auggie's extraordinary face. WONDER, now a New York Times bestseller, begins from Auggie's point of view, but soon switches to include his classmates, his sister, her boyfriend, and others. These perspectives converge in a portrait of one community's struggle with empathy, compassion, and acceptance.

In a world where bullying among young people is an epidemic, this is a refreshing new narrative full of heart and hope. R.J. Palacio has called her debut novel "a meditation on kindness" —indeed, every reader will come away with a greater appreciation for the simple courage of friendship. Auggie is a hero to root for, a diamond in the rough who proves that you can't blend in when you were born to stand out.
This book was sent to Compass Book Ratings for review by Random House
Wonder
by R. J. Palacio
Overall Review:
I'll admit—on first seeing the description, I wasn't sure what kind of story to expect from this unique little book. Its plethora of glowing reviews, however, convinced me to give it a try, and boy, am I glad that I did! I was hooked immediately by August's fabulous, authentic voice; by the wonderful complexity of the characters (there are no stereotypes in this story!); and by the way the shifting perspectives helped to enrich and deepen the story. Although it's a fairly simple story, and not one you would expect to be a page-turner, I found myself unable to put this book down. By the end, I had even shed a few (good) tears. This unforgettable, eye-opening novel is highly recommended! Although it is marketed toward middle-grade readers, I suspect that adults will probably get even more from the story than young teens.
Content Analysis:
Profanity/Language: 10 religious exclamations.
Violence/Gore: A boy punches another boy and makes him bleed (the scene is handled tastefully and without gore). A scene deals with an animal being put to sleep (again, the topic is handled tastefully, but it is a fairly emotional scene and would be intense for young readers). A group of boys bullies and makes threats and nasty comments toward a group of younger boys; a scuffle ensues. Although there are very few incidences of violence throughout this book, some of the character's reactions to the main character, who is severely deformed, are emotionally difficult to read.
Sex/Nudity: A teenage girl talks about sneaking out to the boys' cabins at camp (nothing further is mentioned).
Mature Subject Matter:
Being different, physical deformities, harsh judgments, bullying, betrayal by friends
Alcohol / Drug Use:
A reference is made to teenagers smoking. In another scene, young teens are described as smelling of smoke.
Reviewed By CindyB