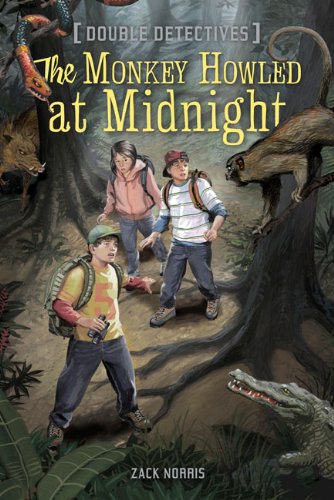 Publisher's Note:
Otis, Cody, and Rae are thrilled to fly down to the Amazon, where the twins' dad has a commission to paint a portrait of coffee baron Enrico Estevez. But then a speeding car tries to run down Mr. Estevez and an overnight stay in the jungle turns terrifying when the kids encounter deadly animals…and even deadlier smugglers.
This book was sent to Compass Book Ratings for review by Sterling Publishing
The Monkey Howled At Midnight
by Zack Norris
Overall Review:
Zack Norris starts this new adventure for the Double Detectives series by introducing the villain at the beginning of the book. Of course, he is creepy and reprehensible and the reader can sense him and several other bad guys skulking in the shadows throughout the rest of the book. The pace of the action is fast and furious right to the end.
Meeting the Carson twins and their cousin, Rae Lee, is a bit overwhelming at first. This trio uses clever word play in ordinary conversation, has extensive and unusually deep understanding of many subjects, is always prepared for any situation, will fly airplanes on demand, can leap tall buildings at a single bound--well, maybe not that last one. On the other hand, they have a can-do attitude that is contagious. They are passionate about their causes and they are determined to right the wrongs they encounter. Who wouldn't want all twelve-year-olds to share some of these attributes?
The theme revolves around timely and serious issues concerning the rain forest. Mr. Norris has wisely couched this theme in an action-packed mystery novel to teach and entertain at the same time.
Content Analysis:
None noted.
Mature Subject Matter:
Family Conflict; Environmental Issues.
Alcohol / Drug Use:
***
Reviewed By Marilyn