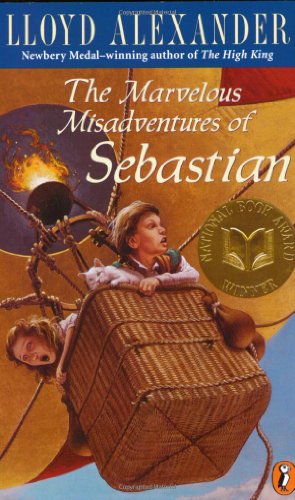 Publisher's Note:
When fourth fiddler Sebastian loses his place in the Baron's orchestra, he has to leave the only home he knows--which turns out to be the least of his troubles. He rescues a stray cat from a group of tormentors, who then smash his precious violin; and the troubled young boy he tries to help turns out to be the Crown Princess, on the run from an arranged marriage. Sebastian, Princess Isabel, and Presto the cat soon find themselves fleeing stuffy officials, hired assassins, furious guardsmen and sentries--and, in their journey, find out what is truly important in life. The action and humor never stop in Lloyd Alexander's classic novel, written on the heels of his famed Prydain Chronicles.
The Marvelous Misadventures of Sebastian
by Lloyd Alexander
Overall Review:
I was really looking forward to reading this book because I absolutely love Lloyd Alexander's series The Chronicles of Prydain. I was slightly disappointed because the writing is not quite up to the standard I am used to from this author. It was still a cute story, but unlike his Prydain series, this children's book appeals more to a younger audience who can appreciate the adventure without noticing the lack of substance to some of the characters.
Princess Isabel is one of the characters who lack depth. However, when she does speak, she uses very fancy language, making this book a good vocabulary builder for the industrious young person who cares to look up what they don't understand. For those that don't have an affinity for dictionaries, the meaning can usually be gleaned from the responses of the other characters.
The hero, Sebastian, is a likable fellow with a little more depth of character. He seems to have a way of falling into the most unlikely of situations. As the title proclaims, this story is full of misadventures and narrow escapes as Sebastian attempts to help Isabel avoid the wicked Regent who is determined to marry her.
Taking into consideration the story as well as some of the advanced vocabulary, I would say this might be the perfect book for parents with children in grades 4th-6th looking for a family read aloud.
Content Analysis:
Profanity/Language: None
Violence/Gore: A couple of verbal threats issued from one character to another; a report is given of a punch that resulted in a bloody nose; it is mentioned after the fact that a character was beaten by guards; there is a brawl involving several men, no blood mentioned; a character is kicked in the face; a nobleman "belabors" a footman with his cane; one character throws a lantern at another character who catches on fire; a character finds the body of a man with his throat cut; non-detailed scene of a man shot in the chest; one incidence of fantasy violence wherein a man dies as a result of a cursed object.
Sex/Nudity: None
Mature Subject Matter:
***
Alcohol / Drug Use:
***
Reviewed By Ambra