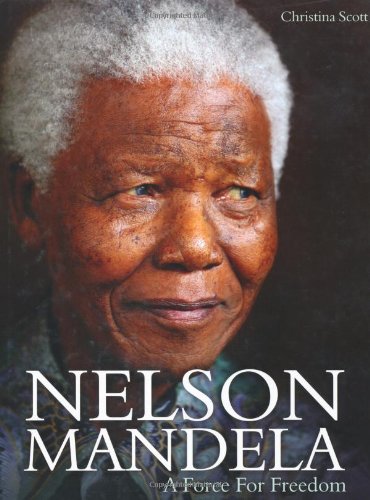 Publisher's Note:
The name Nelson Mandela is synonymous with freedom and moral integrity. He is the living symbol of the triumphant struggle to replace South Africa's apartheid regime with a multiracial democracy. Fully illustrated, this biography chronicles the remarkable life of Nelson Mandela, from his days as student activist and guerrilla leader to his 27 years in prison to his position as an iconic elder statesman beloved the world over.
This book was sent to Compass Book Ratings for review by Sterling Publishing
Nelson Mandela: A Force for Freedom
by Christina Scott
Overall Review:
This book would make a nice gift for a Nelson Mandela fan. It contains many pictures of Mandela, his family, and South Africa. Some depict the protests and the suffering experienced during the long years of apartheid in South Africa. Some show that everyday life continues even in troubled times and others celebrate the accomplishments of Nelson Mandela.
For me, who knew next to nothing about Mandela when I opened the cover, the writing was a bit confusing. The author consistently referred vaguely to future events, so much so that if you didn't already know what would happen in the future, it was hard to grasp the significance being assigned to the person or event currently being discussed. There was even one instance where the main body of writing and the photo caption on the same page contradicted each other and I had to use the internet to sort out what really happened.
I would say if you already know a lot about Mandela and are more interested in the photos, you would enjoy this book. If you are looking to begin learning about the life of this interesting man, you may want to look elsewhere.
Content Analysis:
Profanity/Language: None
Violence/Gore: A few reports of bombings with and without casualties; there are several instances where violence erupts during protests being made, in some of these instances many people are killed but the events are not graphically depicted; a couple instances where beatings occur during interrogations, but not detail specific; assassinations of political activists are reported without detail; one detailed scene of a shooting; one large black and white photo of several bodies lying on the ground after policemen opened fired on a crowd of protesters.
Sex/Nudity: A prisoner is forced to strip naked in front of guards, no detail given; two sexual references.
Mature Subject Matter:
War; death of family members; racial oppression; homelessness; HIV/AIDS
Alcohol / Drug Use:
***
Reviewed By Ambra