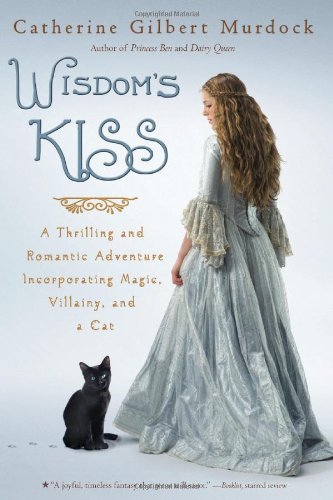 Publisher's Note:
Magic, cunning, and one very special cat join forces in this hilarious, extraordinary tale by the author of the Dairy Queen trilogy and Princess Ben.
Princess Wisdom, known as Dizzy, longs for a life of adventure beyond the staid old kingdom of Montagne. Tips, a soldier, longs to keep his true identity a secret. Fortitude, an orphaned maid, longs only for Tips.

These three souls might possibly attain their dreams while preserving their empire from ruin — if only they can bear one another's company long enough to come up with a plan.
Wisdom's Kiss
by Catherine Gilbert Murdock
Overall Review:
I picked-up Wisdom's Kiss because it was written by Catherine Gilbert Murdock, author of Dairy Queen, and it didn't look a thing like Dairy Queen, thus piquing my curiosity. A fantasy told through a conglomeration of letters, journal entries, plays, and encyclopedia entries, it is a complete deviation from the author's other work and it is always refreshing to see an author display versatility instead of regurgitating the same formula.
The format of the book coupled with characters named after virtues (but often referred to by nick-names) made for difficult reading. The first quarter of the book requires real dedication, work, and some re-reading on the reader's part before any sense can be made of the plot. Readers who don't like to work very hard might be put off, but I liked the challenge and found it added to the intrigue.
Wisdom's Kiss plays homage to several fairytales in passing. A delightful and diverting read, it embraces melodramatic antics proudly. Looking for a light-hearted read? This book should do the trick!
Content Analysis:
Profanity/Language: 1 religious exclamation; 8 mild obscenities.
Violence/Gore: Report/mention of a man murdered; mention of older brothers beating a younger brother; report of a death many years ago by a fall; second-hand report/description (multi-page) of a duel/fight; a character falls to their death.
Sex/Nudity: Characters embrace and kiss; reference to a "love affair"; brief, passing reference to a male character marrying another male character.
Mature Subject Matter:
Treason, marriage.
Alcohol / Drug Use:
***
Reviewed By Cindy