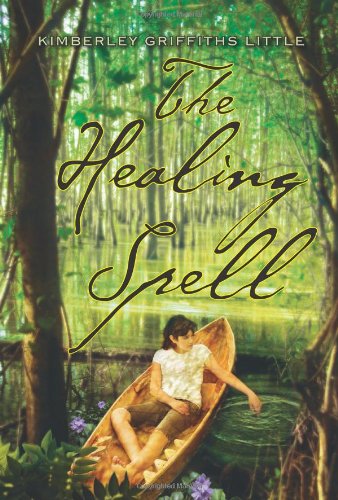 Publisher's Note:
Critically acclaimed author Kimberley Griffiths Little brings to life a sweeping and heartfelt story set against the lush backdrop of the bayou.

Twelve-year-old Livie is living with a secret and it's crushing her. She knows she is responsible for her mother's coma, but she can't tell anyone. It's up to her to find a way to wake her momma up.

Stuck in the middle of three sisters, hiding a forbidden pet alligator, and afraid to disappoint her daddy, whom she loves more than anyone else, Livie struggles to find her place within her own family as she learns about the powers of faith and redemption. Livie's powerful, emotional, and sometimes humorous story will stay with readers long after the last line is read.
The Healing Spell
by Kimberley Griffiths Little
Overall Review:
It took me a few chapters to really get into The Healing Spell, but once I did, it wove its magic around me! This book unfolds like a sweet, rich Louisiana afternoon. I was impressed by the wealth of pitch-perfect detail about life on the Bayou and Cajun culture; Kimberley Griffiths Little's world seemed so real that sometimes it was hard to remember that I was reading a book on my couch in Utah and not poling along the bayou with Livie. I was pleasantly surprised not only by the richness of the setting and characters, but also by the power and heart of this little book; Livie's evolution and growth throughout the book felt very authentic and true to life.
The Healing Spell is recommended for anyone who likes a good story with a fantastic setting, no matter their age, but would be best suited for adults and children 9+.
Content Analysis:
Profanity/Language: 3 religious exclamations. 1 mild profanity.
Violence/Gore: A child pushes an adult; the adult slips on a wet floor and falls (no serious harm done). A child pushes another child into a river (no serious harm done). A child brags to another child that she could "put a shot between your eyes." A child steals a gun and shoots it (no people are injured). A character is in a coma from an accident.
Sex/Nudity: Characters flirt (with one extended scene of flirtation/boy-girl interaction). One plotline deals with a wedding.
Mature Subject Matter:
Parent/child conflict, serious illness, keeping secrets.
Alcohol / Drug Use:
***
Reviewed By CindyB