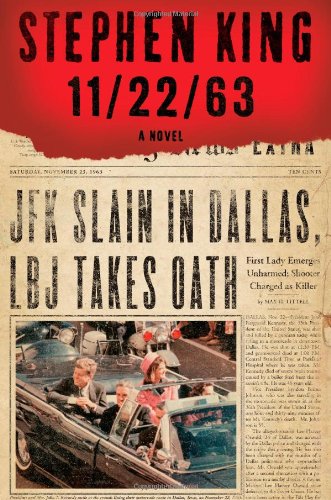 Publisher's Note:
On November 22, 1963, three shots rang out in Dallas, President Kennedy died, and the world changed. What if you could change it back? Stephen King's heart-stoppingly dramatic new novel is about a man who travels back in time to prevent the JFK assassination—a thousand page tour de force.


Following his massively successful novel Under the Dome, King sweeps readers back in time to another moment—a real life moment—when everything went wrong: the JFK assassination. And he introduces readers to a character who has the power to change the course of history.

Jake Epping is a thirty-five-year-old high school English teacher in Lisbon Falls, Maine, who makes extra money teaching adults in the GED program. He receives an essay from one of the students—a gruesome, harrowing first person story about the night 50 years ago when Harry Dunning's father came home and killed his mother, his sister, and his brother with a hammer. Harry escaped with a smashed leg, as evidenced by his crooked walk.


Not much later, Jake's friend Al, who runs the local diner, divulges a secret: his storeroom is a portal to 1958. He enlists Jake on an insane—and insanely possible—mission to try to prevent the Kennedy assassination. So begins Jake's new life as George Amberson and his new world of Elvis and JFK, of big American cars and sock hops, of a troubled loner named Lee Harvey Oswald and a beautiful high school librarian named Sadie Dunhill, who becomes the love of Jake's life—a life that transgresses all the normal rules of time.
A tribute to a simpler era and a devastating exercise in escalating suspense, 11/22/63 is Stephen King at his epic best.
11/22/63
by Stephen King
Overall Review:
What would you do if you could travel back in time? Most want to see a great event in history or change something in their past, but what if your actions in the past greatly affected the future in ways you could not fathom? It is an age old question and has been discussed by many a philosopher physicist. It is also the premise for Stephen King's book 11/22/63.
November 22nd, 1963 is the date that John F. Kennedy was assassinated by Lee Harvey Oswald. First, it should be noted that this book is not a conspiracy novel nor is it a gushing story of "what if". The story is well researched and touches on all aspects of the culture of the time period. The story has so many elements that the genre could be classified as romance, action-adventure, historical fiction, and yes, horror. With such a wide range of literary aspects, the book is intriguing on many levels. You want the main characters to fall in love and stay together against all odds. You will be curious about what happens if the future can changed. Don't worry, Stephen King will scare you, as usual.
Entertaining on many levels this book is definitely for adults. The story is very graphic which adds realism, but is sometimes hard to read. Good book, I recommend it.
Content Analysis:
Profanity/Language: 27 Religious exclamations; 61 Mild obscenities; 67 Religious profanities; 72 Derogatory names; 81 Scatological words; 38 Anatomical terms; 4 Offensive hand gestures; 77 F-word derivatives.
Violence/Gore: Few references to murder of family, 2 were explicit, 1 extended, includes gore blood, death of mother and two children; Few second-hand descriptions of death of children by serial killer; several fist fights with some blood (bloody nose, knocked out teeth); two occurances of characters cutting their own throats, graphic in nature; two detailed fights that end in death or serious injury; few references to JFK assissination, some graphic in nature referencing blood and gore; few car accidents with injury and property damage; few references to natural disasters that cause massive damage and death; gang of disfigured thugs assult man in wheel chair; radiation poisoning and disfigurement; few references to Vietnam War, Korea War and World War II; estranged husband assults and wounds wife permanently; arson; detailed account of a cold blooded murder, involves shooting from close range; several references to spousal abuse includes slapping, hitting, and/or shaking; 2 characters commit suicide with gunshot to the head, detailed gore and blood.
Sex/Nudity: Many references to sexual encounters involving non-married couple who is dating; one extended scene with description of sex; several references to sexual acts mainly through innuendo or crude language/jokes; few references to pregenacy out of wedlock; one reference to a child molester; several characters flirt with each other; poor tenent offers to pay the rent with sexual favors; few references to prostitution; character goes to strip club and then fondles wife in public.
Mature Subject Matter:
Suicide, divorce, mental disorder, spousal abuse, child abuse, murder, death of family member, death of a child, segregation, racism, stalking, sexism, cancer, gambling, poverty, prostitution, war, nuclear holocaust, oganized crime, assissination, political dialogue involving communism vs. capitalism, alcoholism, drug abuse, disfiguremant and permenent injury.
Alcohol / Drug Use:
Many references to adults drinking alcohol and smoking cigerettes; character commits suicide by overdosing on oxycodone; character tries to commit suicide with pills and alcohol; several references to Alcoholics Anonymous; several reference's to alcoholics and their behavior; few references to post surgery use of pain pills.
Reviewed By Matthew