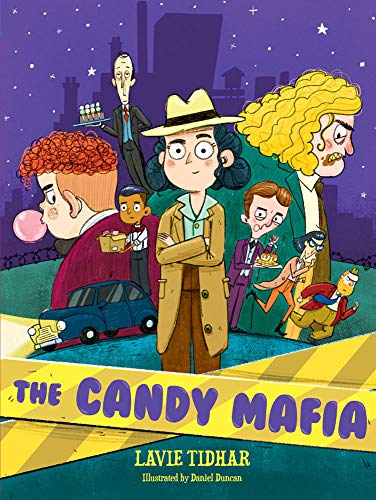 Publisher's Note:
In a city where candy is a crime and sugar is scandalous, Nelle Faulker is a 12-year-old private detective looking for her next client.
When notorious candy gangster Eddie de Menthe asks for her help to find a missing teddy bear, Nelle Faulkner is on the case. But as soon as the teddy turns up, Eddie himself goes missing! As a seemingly innocent investigation unravels into something more sinister, Nelle and her friends quickly find themselves swept up in a shady underworld of sweets smugglers, back alley deals, and storefront firebombs.
If Nelle has any hope of tracking down her missing client, first she'll have to unmask the true faces behind the smuggling ring. Can Nelle and her friends find a way to take the cake? Or will they come to a sticky end…?
Charlie and the Chocolate Factory meets Bugsy Malone in this page-turning mystery from World Fantasy Award-winning author Lavie Tidhar. With moody spot illustrations by Daniel Duncan, readers will be sucked into the action-packed narrative as Nell pulls the curtain back on the black market candy rings.
This book was sent to Compass Book Ratings for review by Peachtree Publishers
The Candy Mafia
by Lavie Tidhar
Overall Review:
Author Lavie Tidhar is a seasoned writer but Candy Mafia is the first book he's written for children. If all of his work is this brilliant, I hope he continues writing for this demographic. Those who loved the Nate the Great Series but feel they are too old to enjoy it anymore will love this more mature and involved story. Tidhar manages to make it feel like you've graduated from elementary and moved onto middle school without adding unnecessary adult content that sometimes finds itself in even MG books these days. The unique idea that candy is illegal, creating a black market run by kids, is such a fun plot. Lavie is extremely clever as every candy reference and pun you can imagine finds its way onto these pages. Things get complicated as you watch the story unfold and main character, Nelle, who works to solve the sometimes dangerous mystery. As one would expect, not everyone is on the detective's side and determining who is involved and how, will keep those pages turning. Seeing duplicity of character and watching others develop also adds to the intricacy of the story. Excellently paired with the story, Daniel Duncan creates illustrations with an old-school vibe that are perfect for this five-star mystery.
Review of a Digital Advance Reading Copy
Content Analysis:
Profanity/Language: None
Violence/Gore: Many (27) brief incidents including character wanting to hit another; characters setting off smoke and stink bombs in building; a few references to young charaters' parents dying; reference to a bullet wound; reference to a young character's mother being sick and in the hospital; second-hand report of young character intentionally breaking another's bike; reference to assasins and murderers; second-hand report of characters smashing everything in another's office while looking for something; reference to store getting intentionally lit on fire resulting in no injuries; a few incidents of young characters bullying by pushing each other around and causing little injury; character hit by a candy shard but no injury mentioned; character slips and falls, becoming unconscious; young character knocks over adult (trying to save another) who then pulls her hair; character getting trapped in candy; a few incidents of characters running into another with a golf cart; gun aimed at others and end up shooting aimlessly into the air (no injuries); machines exploding; characters shooting at machines and causing damage to them.
Sex/Nudity: None
Mature Subject Matter:
Theft; reference to a character in a sanitorium; references to death.
Alcohol / Drug Use:
Adults drinking at a party; adult smoking pipe; child chewing on chocolate cigar.
Reviewed By Jenny