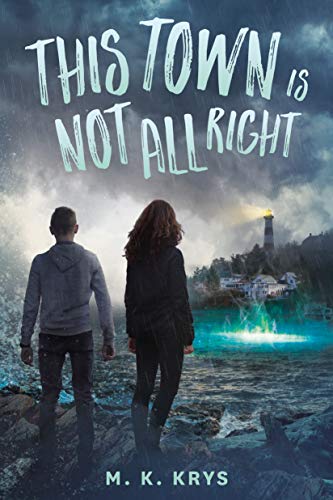 Publisher's Note:
Driftwood Harbor may seem like an ordinarily boring, small New England town, but there's something extremely strange and downright creepy happening within town limits.

Twins Beacon and Everleigh McCullough are moving from their home in sunny LA to Driftwood Harbor, a rainy fishing village in New England. If that wasn't bad enough, there's something strange about this town and the mysterious group of too-perfect students called The Gold Stars. After Everleigh is recruited into their ranks, Beacon must uncover Driftwood Harbor's frightening secret before he loses his sister forever.

This Town Is Not All Right is the middle-grade horror debut from M.K. Krys (YA author Michelle Krys). Be prepared for a thrilling page-turner with a major mystery because the residents of Driftwood Harbor will do whatever it takes to keep their dark secrets from rising to the surface.
This book was sent to Compass Book Ratings for review by Penguin Workshop
This Town is Not All Right
by M. K. Krys
Overall Review:
This Town is Not All Right by M. K. Krys was a pretty interesting read. It contained some hard issues like dealing the trauma of death and how grief affects different people, and combined that with supernatural elements.
Beacon and Everleigh are twins dealing with the fallout following a family member's death. They and their father move from L.A. to a fishing town called Driftwood Harbor. Their dad insists it's so they can have a fresh start, but Driftwood Harbor doesn't seem like the greatest place to start over. The townsfolk are strange, the children are stranger, and everyone acts as though nothing is out of the ordinary. Then, Beacon starts losing chunks of time, and after their first day of school his sister Everleigh completely changes. Desperate to figure out what's going on, Beacon uncovers a secret that involves government coverup, UFOs, and a plan to save the human race from the end of the world.
I really liked the setting. It was a good mix of spooky and unnatural, and the way the characters interacted with the townsfolk really showcased how bizarre everyone and everything was. It reminded me a little bit of an episode of old Supernatural, where the atmosphere was just enough "off" to be unsettling.
Although there are differences, this book reminded me of Artemis Fowl because of the protagonists' ages, conflict with the supernatural, and the characters had to rely on their wits to escape from others who did want anyone to know they exist. I highly recommend this book as an enjoyable read!
Review of an Advance Reading Copy
Content Analysis:
Profanity/Language: 10 religious exclamations.
Violence/Gore: Many instances of violence and gore, including but not limited to: Characters are frequently threatened with bodily injury; characters occasionally point guns at others; characters are pursued several times by monstrous creatures; many instances of characters having flashbacks and memories of a family member's death; a character loses control of a car and nearly crashes, and family members sustain minor injuries; a character occasionally has nightmares about a family member; a character sees someone in the ocean during a storm, and watches the person go underwater; a character wanders into a forest with no recollection of how he got there; a girl has a bloodstain on her shirt; characters are forced to get injections, and a character is afraid of needles and runs away; a character reports having epilepsy from an accident; a character takes photos of students' medical files; characters spy on others and fall through a ceiling; in an extended scene, characters are pursued, one character hurtles a fence and hurts his ankle on landing, another character is cornered on a decrepit pier which breaks under his weight and drops him into the water; a character dives after his drowning friend; report of townsfolk being compelled not to leave their town; a character turns traitor; characters are locked into prison cells; a boy has a black eye; characters are confronted by a guard, and a character struggles with the guard and threatens him with an electrified baton; in an extended scene, a character sacrifices himself to give others a chance to escape while more guards try to block off exits and convince characters they are not evil, and a character threatens to shoot another; an entire town is on the lookout for escapees; underage kids hotwire a car and run several blockades as they escape; characters fight over a steering wheel and send a car careening off the road, a character tries to jump out of the speeding car and is prevented by another, and a character hits the brakes, inflicting minor injuries on the passengers; character reports being electrocuted and his brain getting "jump-started"; a character wakes in pain with blood on his forehead.
Sex/Nudity: A character is said to have two moms.
Mature Subject Matter:
Ethical conflict regarding genetic mutation; death of family members; reference to homosexual parents; child abuse.
Alcohol / Drug Use:
A boy takes a medication; mention of characters drinking in a tavern; mention of people being drunk; characters receive injections; people talk about antidotes; a character is afraid someone might have spiked his drink with sleeping pills; character reports being after kids selling drugs; character reports breaking up fights at pubs.
Reviewed By Katrina