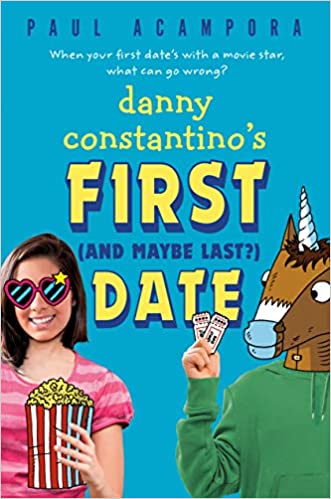 Publisher's Note:
Between going out with his celebrity crush and his mom's campaign to be the next town mayor, Danny's got a lot to learn about life in the spotlight.

When Danny Constantino asks his old-friend-turned-Hollywood-movie-star, Natalie Flores Griffin, to his local school dance and homecoming parade, she surprises him . . . by saying yes! Unfortunately, now everyone in Cuper Cove has something to say about Danny's love life--especially since Natalie is the hometown hero. Throw in herds of TV reporters and NFG groupies, his mom using Natalie's arrival for free publicity, and a pep rally gone horribly, horribly awry, and Danny's left absolutely clueless in this new world of crushes and becoming (kind of) famous.
This book was sent to Compass Book Ratings for review by Dial Books for Young Readers
Danny Constantino's First (and Maybe Last?) Date
by Paul Acampora
Overall Review:
Danny Constantino's First Date is a humorous story that chronicles one boy's romantic(ish?) journey as he stumbles, and is sometimes pushed, down the path towards true love. Or towards at least not embarrassing himself too badly and hopefully remaining friends. Danny is a lovable character with a witty internal voice that makes the book a joy to read. His inability to determine what he actually wants and move toward it, or to make and execute any plans without disastrous results, is comedy gold. The interference by his family, friends, and (it seems) almost everyone in existence serves to pile on the laughs.
While this book is a comedy from start to finish, it also contains some heartwarming gems about the value of family and friends. It emphasizes the need for good communication and strong friendships. The friction between Danny and his mother is something that many young readers may find relatable. It speaks to the opposing forces of a parent's desire to protect their child by keeping control over them and a child's desire to flex their wings and become their own person, and it does so without painting Danny as a disrespectful rebel or his mother as an overbearing tyrant, which adds a refreshing warmth to the family dynamic.
Overall, this book is a great read for anyone who loves comedy and enjoys stories about family, friends, and junior high hilarity.
Review of an Advance Reading Copy
Content Analysis:
Profanity/Langue: None
Violence/Gore: An adult character hits a child, but it is not hard and is in a comic way; a verbal threat; report of excessive violence in a wrestling match; report of a child beating up other children; brief description of a classic fairy tale, which involves a few gory details; a character accidentally cuts himself with a knife; a character breaks a bone in an accident.
Sex/Nudity: Teens flirt verbally, hold hands a few times, and kiss briefly; a few instances in which a teen boy is embarrassed around the girl he likes, including once when he awkwardly walks into the room with her while he is wearing just a towel; characters discuss a boy's dating life a few times, as it is a central theme of the book; a boy thinks about how pretty a specific girl is.
Mature Subject Matter:
Death (pet, parent, spouse; all in the past).
Alcohol / Drug Use:
None
Reviewed By Calinda