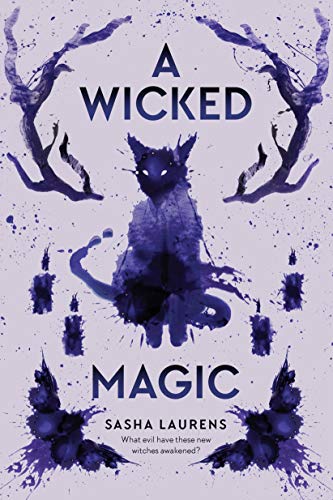 Publisher's Note:
The Chilling Adventures of Sabrina meets The Craft when modern witches must save teens stolen by an ancient demon in this YA fantasy-thriller debut.

Dan and Liss are witches. The Black Book granted them that power. Harnessing that power feels good, especially when everything in their lives makes them feel powerless.

During a spell gone wrong, Liss's boyfriend is snatched away by an evil entity and presumed dead. Dan and Liss's friendship dies that night, too. How can they practice magic after the darkness that they conjured?

Months later, Liss discovers that her boyfriend is alive, trapped underground in the grips of an ancient force. She must save him, and she needs Dan and the power of The Black Book to do so. Dan is quickly sucked back into Liss's orbit and pushes away her best friend, Alexa. But Alexa has some big secrets she's hiding and her own unique magical disaster to deal with.

When another teenager disappears, the girls know it's no coincidence. What greedy magic have they awakened? And what does it want with these teens it has stolen?

Set in the atmospheric wilds of California's northern coast, Sasha Laurens's thrilling debut novel is about the complications of friendship, how to take back power, and how to embrace the darkness that lives within us all.
This book was sent to Compass Book Ratings for review by Razorbill
A Wicked Magic
by Sasha Laurens
Overall Review:
A Wicked Magic is not your typical witchy-magic book. In fact, I would say the book is less about the magic and more about the relationships between three friends. Sometimes at odds with each other and each harboring secrets they aren't sure they want to share with the others, this book takes a deep look into mental illness and the lengths we will go to feel accepted and loved.
This book leans toward the dark side. Happy Harry Potter-style magic is not going to be found in this book. The magic here is dark and consuming. I would liken the way it is portrayed as addictive, like a drug. The girls are drawn to it and the descriptions of the physical pull they feel is very much drug-esque.
The three friends in this book-Alexa, Liss, and Dan-are dealing with some very mature themed issues. Each is dealing with some sort of mental health condition, from cutting and OCD to issues of abandonment. I was a little sad that it isn't until the last few pages where getting professional help is mentioned. While the issues are very real-world, I did feel that they were not depicted as seriously as they should be.
The characters themselves are quite likable, however. Each girl has strengths and weaknesses and it is only when they all stop trying to hate each other that they are able to capitalize on those abilities. I also enjoyed how the author pulled them together and didn't make the ending as predictable as it could have been. At the end, the couplings were surprising, and I definitely appreciated that.
The overall plot line is a little on the predictable side, but the book didn't suffer for it. Your typical good versus evil exists here and of course, good wins in the end. Overall, this is a good book especially for those looking for something a little dark and less happy-go-lucky.
Review of an Advance Reading Copy
Content Analysis:
Profanity/Language: 12 religious exclamations; 11 mild obscenities; 5 derogatory names; 18 scatological words; 5 anatomical terms; 38 f-word derivatives.
Violence/Gore: Reference to death by suicide; three instances of self-mutilation (cutting with razor blade) with depictions of blood and injury; reference to death from overdose; recall of being hit with a wooden spoon; skinned knuckles and palms; woman drives car into house without injuries; 3 page death scene of woman dying from magical curse; man breaks into home and trashes house; car accident with minor injuries; verbal threat; grass and hair catch on fire; 4 page creepy spell recall where teen boy is kidnapped; mom slaps girl in face twice; dead animals oozing from tree; seeping, dying body described; teen girl is bound by hands and dragged against will; man hits a girl with a rock in head and then kicks in stomach; man is knocked over and bound; girl kills man by hitting with fire poker; girl stabs man/demon.
Sex/Nudity: Multiple instances of kissing; hand hold; two references or thoughts about having sex without detail; man's hand on teen girl's thigh; same-sex relationships throughout book.
Mature Subject Matter:
Socioeconomic conflict; mental disorders; abandonment; same-sex relationships; homelessness; cults; verbal abuse; physical abuse.
Alcohol / Drug Use:
Use of marijuana and alcohol by minors and adults throughout book.
Reviewed By Beckie