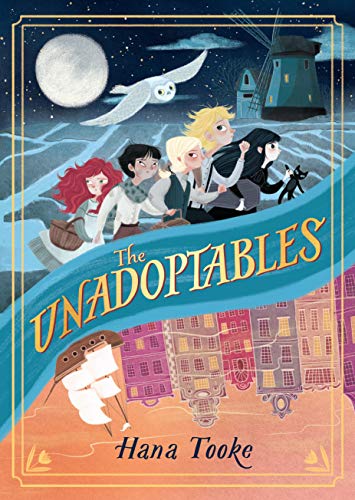 Publisher's Note:
In all the years that Elinora Gassbeek has been matron of the Little Tulip Orphanage, not once have the Rules for Baby Abandonment been broken. Until the autumn of 1880, when five babies are left in outrageous circumstances; one in a tin toolbox, one in a coal bucket, one in a picnic hamper, one in a wheat sack, and finally, one in a coffin-shaped basket.

Those babies were Lotta, Egg, Fenna, Sem, and Milou. And although their cruel matron might think they're "unadoptable," they know their individuality is what makes them special--and so determined to stay together.

When a most sinister gentleman appears and threatens to tear them apart, the gang make a daring escape across the frozen canals of Amsterdam. But is their real home--and their real family--already closer than they realize?
This book was sent to Compass Book Ratings for review by Viking Books for Young Readers
The Unadoptables
by Hana Tooke
Overall Review:
As intriguing as this book first appeared, the ideas floating in my head were nothing compared to reality. Hanna Tooke's debut novel seems as if was crafted by a seasoned writer. Her depictions of the characters are brilliant. The amazing orphans who were dealt a difficult hand in life overcome serious obstacles to become creative, kind, and determined to no end. Their courage and dedication to one another is inspiring. Additionally, the orphanage matron is perfectly evil. Besides having fantastic characters, Tooke's descriptions are meticulous. Those who enjoy a mild thriller will love main character Milou's stories that will send chills doesn't a young one's spine. Tim Burton fans should check this out as it is quite reminiscent of his work. Just when you think you've solved all the mysteries, Tooke throws another surprise to keep you guessing. Enough can't be said about this five-star novel and I can't wait to see what else Hanna Tooke writes!
Review of an Advance Reading Copy
Content Analysis:
Profanity/Language: None
Violence/Gore: Many (20) brief incidents including orphans joking about matron selling them as food and pulling out arm hairs; characters imagining getting scratched and bleeding; characters thinking another kills rats; children worried an adult will hurt them; character would rather jump in a pit of snakes than do something else; adult telling children that she wants to rip their limbs off; character (exagerrating) saying heart is shattering; joking that dog could've eaten bear; children might starve or freeze to death; character's parents might be dead; character may have tried to kill family; character worried another will kill him; gun pointed at child; adult has knife at child's throat; verbal threat; reference to grave robbers; reference to werewolf hunters and pricking finger; second-hand reports of child getting caned and will again; reference to drowning; reference to murder; character has scratches on arms; reference to dead dogs; second-hand report of boy losing an eye in a sword fight; children seeing dead animal skulls; reference to dead shadow following child; children hurting an adult's foot; character elbowing another and making nose bleed; character getting rope burns and bruises; character pulling another's hair; adult hitting child; children hurting adult; adult character scratching at own neck and passing out from fear; character getting attacked by dog; children nearly drowning; children reading a creepy story; story told about killing werewolves; firework lighting ship on fire. One extended incident of a scary play.
Sex/Nudity: One brief incident referencing child born to unmarried couple.
Mature Subject Matter:
Child neglect and abuse with little detail.
Alcohol / Drug Use:
Two incidents of an adult smoking; reference to footprints looking like drunken steps.
Reviewed By Jenny