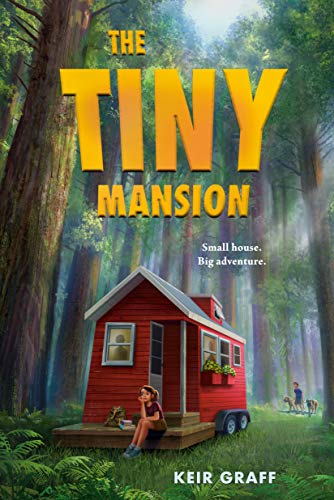 Publisher's Note:
The last thing twelve-year-old Dagmar wants is to spend her summer vacation squished into a tiny house with her dad, her stepmom, and her annoying five-year-old half brother. But after a sudden financial setback, her family is evicted from their Oakland apartment, and that's just where they end up, parked among the towering redwoods of Northern California. As Dagmar explores the forest around their new and (hopefully) temporary home, she discovers they are living next door to an eccentric tech billionaire and his very unusual extended family. There's his brother, a woodsman who sets dangerous booby traps all over the place, and his sister, a New Age animal lover who meditates to whale songs in an isolation tank. And then there's the billionaire's son, Blake, who has everything he could ever wish for--except maybe a friend. But when a wildfire engulfs the forest, everyone--rich and poor, kid and adult--will have to work together to escape. And with both families at risk of losing everything, it turns out it's not the size of the home but the people you share it with that matters.
This book was sent to Compass Book Ratings for review by G.P. Putnam's Sons Books for Young Readers
The Tiny Mansion
by Keir Graff
Overall Review:
Although she's born a natural leader, Dagmar really struggles with change. She's a loyal friend and really misses her little support system back home when she has to move away for the summer. Living with her dad, stepmom, and annoying little brother pushes Dagmar to the limit of her patience and she pushes back pretty hard. She ends up making an unusual friend though, and in an awkward way, he helps her see that her life isn't so bad after all. Blake is twelve just like Dagmar and he learns some much needed lessons in friendship.
The pacing moves along well but there's a lot of negativity with Dagmar's attitude in the first half of the story and it wears on the joy of reading this book. In the midst of a blazing forest fire, Dagmar begins to take a second look at her life and attitude and she comes to realize that her participation and attitude make a big difference in her life and in how others see her. Family is the main topic with several additional characters that add to the big picture. Along with furry friends which include dogs, a bird, a squirrel, a cat, a ferret, and even a few cows, they all face the ravaging fire with mostly brave hearts and learn some serious teamwork in the process of escaping the forest fire. The author has done a good job of making the forest fire a little scary but still age appropriate. This is Keir Graff's seventh book.
Review of a Digital Advance Reading Copy
Content Analysis:
Profanity/Language: None
Violence/Gore: Several dangerous but not deadly traps are set in the forest, a few people almost hurt, one man twisted his knee; a long fire scene with several potential places for personal injury but no harm comes to animals or the people; thoughts of cows becoming lunch.
Sex/Nudity: None
Mature Subject Matter:
Divorce, financial problems, family/sibling disputes, major fire scene.
Alcohol / Drug Use:
None
Reviewed By Beth