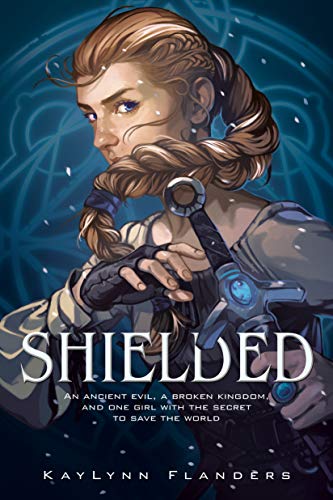 Publisher's Note:
The kingdom of Hálendi is in trouble. It's losing the war at its borders, and rumors of a new, deadlier threat on the horizon have surfaced. Princess Jennesara knows her skills on the battlefield would make her an asset and wants to help, but her father has other plans.

As the second-born heir to the throne, Jenna lacks the firstborn's--her brother's--magical abilities, so the king promises her hand in marriage to the prince of neighboring Turia in exchange for resources Hálendi needs. Jenna must leave behind everything she has ever known if she is to give her people a chance at peace.

Only, on the journey to reach her betrothed and new home, the royal caravan is ambushed, and Jenna realizes the rumors were wrong--the new threat is worse than anyone imagined. Now Jenna must decide if revealing a dangerous secret is worth the cost before it's too late--for her and for her entire kingdom.
This book was sent to Compass Book Ratings for review by Delacorte Books
Shielded
by KayLynn Flanders
Overall Review:
First drawn to this book by the beautiful cover, the inside did not disappoint. It starts out with some great character development, and then all of a sudden, the action begins and doesn't stop until the end. Jenna is a princess who chooses to do her duty with a big heart. Trained as a warrior, she's all about protecting her country, defending her family when necessary, and choosing the hard path even though she knows it's gonna be tough. Jenna is a nurturer, a valiant warrior, and a true leader all rolled into one very impressive, yet humble role model. Brave and honorable, Enzo just sounds like the hunk of a prince most girls dreams of, and his sisters and grandmother are great complimentary characters. The romance between Jenna and Enzo is a slow burner throughout the story but it's so cute it's easy to cheer them on and hope they end up together in the end. Complete with a magician with a shriveled grey heart, a magic forest, treachery, and war, this story reminds me a little of John Flanagan's Ranger's Apprentice but with magic. The author has written it without graphic descriptions of death and blood making it accessible to older middle grade readers in addition to the older teen audience it targets.
The characters are engaging and grow throughout the story. Some end up showing their true selves, but what's a good story without a traitor and some satisfying action? Set in a time where horses are the main transportation, the author is able to paint an engaging picture of the landscape that helps draw in the reader. At the beginning, the pacing is a little slow but it really takes off once it gets going. Although magic is used, it's somewhat limited except in the magical forest. To most of the characters it's new so they are still trying to figure it out. For others, they are quite magical but the good guys try hard to keep them corralled. This is KayLynn Flanders debut novel and from the way this one ended, I'm looking forward to reading the next in the series.
Review of a Digital Advance Reading Copy
Content Analysis:
Profanity/Language: None
Violence/Gore: A young lady finds out that her father and brother have died; a battle between several bag guys and several good guys, many dead, some description but not bloody; a man is killed by another man; a man was given a potion then he died; a young lady is attacked by several magical things, battles wolves, and magical beings, some physical harm to her and the magical things; a man is killed by a woman, a little descriptive and blood mentioned; 3 people battle magical creatures; a young woman is poisoned 2 times; a young woman has a vivid dream where a young man's throat is slit, not descriptive; many people are killed or imprisoned when bad guys attack; a young woman kills 2 men, some description & blood; a battle between a magical being and a young woman, some pretty serious damage to the woman; an epic battle where a man is killed, mention of wounds and blood; a man is shot with an arrow but survives; mention of a battle field covered with blood and the dead removed; a man is stabbed.
Sex/Nudity: A romance runs throughout much of the story between a young man and a young woman; a young man kisses a young woman.
Mature Subject Matter:
Death of a mother, death of a friend, war, good and bad magic, unethical advisors to the king, traitors, attempted abduction of 2 children.
Alcohol / Drug Use:
None
Reviewed By Beth