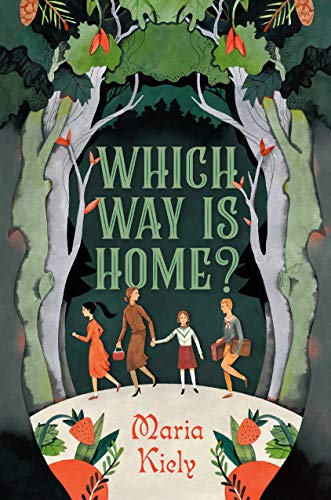 Publisher's Note:
A riveting debut novel about a family escaping Czechoslovakia after the 1948 Communist takeover--based on the author's own family history.

Anna's father disappeared months ago. He had to flee the country because the cruel new Communist government wanted to arrest him. The Communists may have arrived like heroes at the end of World War II, saving Czechoslovakia from the Nazis--but since then, things have changed. Now Anna's whole family feels threatened and doesn't know whom to trust, so she and her mother and sister set out to escape, hoping to reunite with Papa. During their dangerous journey, they have to hide from the authorities and navigate through the wilderness, constantly relying on people they've never met for help. They have no way to contact Papa and they're running out of options, so putting their lives in the hands of strangers might be their only hope of seeing him again.
This book was sent to Compass Book Ratings for review by Nancy Paulsen Books
Which Way is Home?
by Maria Kiely
Overall Review:
In her debut novel which is based on her own family history, Maria Kiely tells the story of how her mother left Czechoslovakia in search of freedom. Told from the perspective of a young girl, this novel depicts the feelings and experiences of a refugee child - the uncertainty, the newness, the fear, the unexpected twists and turns, as well as the hope.
There are so many novels on WWII, but very few on what happened next. This book describes what happened in Czechoslovakia following WWII and the rise of the Communist government. This is a book for historical fiction lovers, especially WWII buffs.
The chapters are short and the content is mild. It doesn't go into the deep trials refugees experience and keeps things pretty superficial - as told by a child. This is a great introduction to some of the hardships that are experienced by people all over the world.
Review of an Advance Reading Copy
Content Analysis:
Profanity/Language: None
Violence/Gore: Playing storm at sea - saving drowning people; report of death; report of suicide/murder; adult shot dog in ear; verbal threat to dog; what if shot me? thoughts; unknown death of uncle; threat to be sent to prison camps or killed; could be sent to jail; statement that Hitler is dead; could have been sent to a work camp; report of soldiers who had been killed; thoughts of falling in a ravine and being killed; traps set to catch refugees and send them to camps; report of bombed areas from the war; many refugees sent to prison camps.
Sex/Nudity: 4 instances of adults/teenagers holding hands; hand lingers on arm.
Mature Subject Matter:
Communism; post-war life; refugee camp.
Alcohol / Drug Use:
People smoking at a refugee camp.
Reviewed By Lacey