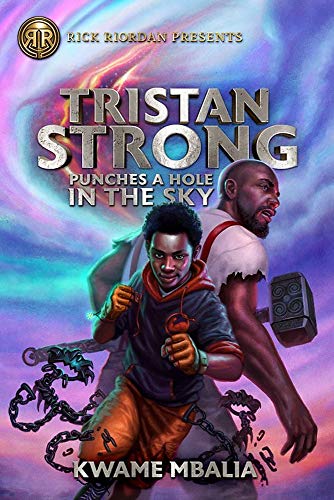 Publisher's Note:
Winner of a Coretta Scott King Author Honor
Best-selling author Rick Riordan presents Kwame Mbalia's epic fantasy, a middle grade American Gods set in a richly-imagined world populated with African American folk heroes and West African gods.
Seventh grader Tristan Strong feels anything but strong ever since he failed to save his best friend when they were in a bus accident together. All he has left of Eddie is the journal his friend wrote stories in. Tristan is dreading the month he's going to spend on his grandparents' farm in Alabama, where he's being sent to heal from the tragedy. But on his first night there, a sticky creature shows up in his bedroom and steals Eddie's notebook. Tristan chases after it--is that a doll?--and a tug-of-war ensues between them underneath a Bottle Tree. In a last attempt to wrestle the journal out of the creature's hands, Tristan punches the tree, accidentally ripping open a chasm into the MidPass, a volatile place with a burning sea, haunted bone ships, and iron monsters that are hunting the inhabitants of this world. Tristan finds himself in the middle of a battle that has left black American folk heroes John Henry and Brer Rabbit exhausted. In order to get back home, Tristan and these new allies will need to entice the god Anansi, the Weaver, to come out of hiding and seal the hole in the sky. But bartering with the trickster Anansi always comes at a price. Can Tristan save this world before he loses more of the things he loves?
Tristan Strong Punches a Hole in the Sky
by Kwame Mbalia
Overall Review:
Tristan Strong Punches a Hole in the Sky has been on my reading list for a while. The first encounter with this book is a little confusing as at the top of the cover in gold letters it says "Rick Riordan Presents". Was this like all those other New York Best Selling authors like Clive Cussler whose name is in large letters with a smaller name under it? The answer is no. This book is written by Kwame Mbalia. "Rick Riordan Presents" is a small imprint under the Disney-Hyperion label. This label is publishing books about mythology in diverse cultures written by people native to those cultures.
Tristan Strong Punches a Hole in the Sky will find many lovers. It starts a little disjointedly, but soon settles into a rhythm and a quest that has all the action and brisk pacing you might find in a Rick Riordan series. I must admit that at first I found Gum Baby annoying, but darn, if she didn't grow on me until I found myself smiling anytime she was on page ranting away. Tristan is a compelling protagonist and joined by a large cast of characters, legends, and gods. There are some cultural layers to the book, and it is a good call to have Mbalia be the one to do the telling. I can almost guarantee that any adventure-loving middle grade reader will devour this award-winning book.
Content Analysis:
Profanity/Language: None
Violence/Gore: Reference to holding own in school fights; reference to a boxing match that character lost; reference/flashbacks to accident that resulted in a death; verbal threats; confrontation with a fantasy creature that shoots out sap (and verbal insults/threats); character swings and hits to get a fantasy creature to unhand an object; creepy ships made of bones pursues characters; extended fight scene with fantasy creatures resulting in injuries, capture of characters, and assumed death of characters; extended fight scene with fantasy creatures resulting in injuries and capture; fantasy creatures inject poison; extended fight scene with fantasy creatures; characters find people and fantasy creatures wrapped in webs; booby traps; threat and capture at spear point; character shot at by lightning bolts; extended battle with fantasy creature, magic used to battle; character "sees" an battle in a vision that is currently happening; character is smacked by another to wake up (humorous); extended battle scene with fantasy creatures resulting in capture and serious injury; character retells a past event where someone died; extended battle scene with fantasy in capture, destruction of property, and injury; brief description of a creature with some skeleton-like features, slightly creepy; branches wrap around wrists and inflict minor injury; fantasy creatures break apart like confetti; playful punch to the arm.
Sex/Nudity: Characters hug in friendship.
Mature Subject Matter:
Battle, capture, death of a friend.
Alcohol / Drug Use:
Fantasy creatures injects poison.
Reviewed By Cindy