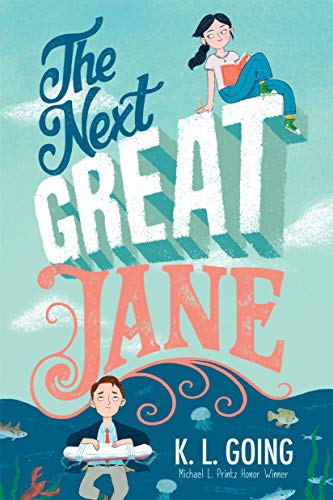 Publisher's Note:
From award-winning author K. L. Going comes a happily-ever-after story of a girl who discovers the true secret to all good writing--through an unlikely friendship, some well-intentioned matchmaking, and little bit of science.

Jane Brannen wants nothing more than to become a famous author like Jane Austen--she just needs to figure out the key to literary success! Her chance to uncover the secret arrives when bestselling author J. E. Fairfax visits her tiny town of Whickett Harbor. Unfortunately, a hurricane rolls in and Jane gets stuck with the author's snobbish son, Devon, instead. But when the skies clear, Jane realizes the wind has blown in something worse than annoying boys: Her mother, Susan, and Susan's new fiancé, Erik, have flown all the way from Hollywood to file for custody and bring Jane back to California. Now she needs to find a mate for her marine biologist father and figure out what's truly important about Whickett Harbor, so she can prove to her mother that this is where she's meant to stay.
This book was sent to Compass Book Ratings for review by Dial Books for Young Readers
The Next Great Jane
by K. L. Going
Overall Review:
From a Michael L. Printz Honor winner comes this bright, upbeat text that is perfect for a summer read. This is a story of the discovery of self of a young writer as well as the importance of seeing the small things in life and not taking them for granted.
While not modernizing or copying Jane Austen's work, there are some simple parallels in themes that those who know her work would notice (i.e. the matchmaking of Emma, the love-hate nature of Pride and Prejudice, the waiting for a relationship of Persuasion). Also, it is sprinkled with characters from Jane Austen's works (i.e. Miss. Bates teaches at the school, Ms. Maryanne teaches piano, etc.)
Juxtaposed next to these themes is a story set in a coastal town in Maine with a nod to climate change and what plankton really does for us. There is a bit of love, a bit of science, and a bit of family in this book. This is a book for book lovers and young writers. Female audiences in particular will enjoy this read.
Review of an Advance Reading Copy
Content Analysis:
Profanity/Language: 5 religious exclamations.
Violence/Gore: Threat of a hurricane; verbal thought elderly adult having a stroke; character almost falls from a tree/ledge, could have died; blood on palms; report of people who had drowned; verbal thoughts of--"we're going to die, have brain damage, be washed away, get hypothermia"; minors break window; minors engage in food fight; damage to town from hurricane; mental thought 'someone kill me now'; mental thought 'sea wouldn't care if it swallowed us'; adult stated 'they could have died'; thought of how their experience was a scrape of death.
Sex/Nudity: Hadn't kissed a boy yet; girls draped over boys in the cafeteria; word 'sexy' referred to twice; flirtatious behavior - hands brushing against each other/touching; wondering if wanted to hold hands; adults kiss; adults hold hands.
Mature Subject Matter:
Divorce; custody battles.
Alcohol / Drug Use:
Alcohol was being served at an event for adults only.
Reviewed By Lacey