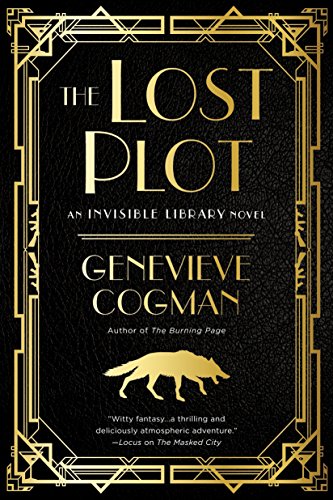 Publisher's Note:
After being commissioned to find a rare book, Librarian Irene and her assistant, Kai, head to Prohibition-era New York and are thrust into the middle of a political fight with dragons, mobsters, and Fae in this novel in the Invisible Library series.
In a 1920s-esque New York, Prohibition is in force; fedoras, flapper dresses, and tommy guns are in fashion: and intrigue is afoot. Intrepid Librarians Irene and Kai find themselves caught in the middle of a dragon political contest. It seems a young Librarian has become tangled in this conflict, and if they can't extricate him, there could be serious repercussions for the mysterious Library. And, as the balance of power across mighty factions hangs in the balance, this could even trigger war.
Irene and Kai are locked in a race against time (and dragons) to procure a rare book. They'll face gangsters, blackmail, and the Library's own Internal Affairs department. And if it doesn't end well, it could have dire consequences on Irene's job. And, incidentally, on her life...
The Lost Plot
by Genevieve Cogman
Overall Review:
The Lost Plot is the fourth book in the Invisible Library Series and it does not disappoint. Do not even attempt to read this book before having read books 1-3 because you would be hopelessly lost. The Lost Plot opens with Ms. Cogman's signature action scene showing Irene hard at work securing a book for the library and finding herself in an unfortunate situation which involves running for her life--a most common occurrence for her.
The Lost Plot has all the charm of the earlier books: breath-taking action, convoluted plots, peril, amazing climatic momentum, and an iron-willed and improvising heroine. It felt a little less cluttered than some of the other books which were chock full of everything and the kitchen sink. (Personally, I adore the books being stuffed to the gills and think it fits with the world building.) At first blush, this seems like a somewhat stand-alone adventure that doesn't progress any further understanding of the library's agenda or provide any clarity to the over-arching direction of what is now a seven-book series. However, this book does facilitate a key relationship-dynamic change that is critical for further progress possibilities.
If you loved the first three books, you will love The Lost Plot for all the same reasons. Looking forward to book five!
Content Analysis:
Profanity/Language: 4 religious exclamations; 21 mild obscenities; 6 scatological terms; 1 F-word derivative.
Violence/Gore: Many verbal threats; reference to vampires and letting blood; pursuit and character uses magic in defense and strikes another with an oar; reference to suicide being a preferable action; scene where men shoot tommy guns trying to kill someone and kill many bystanders indiscriminately, mention of blood; magic used to move physical objects to hit, constrain, choke characters; character punches another, knocking unconscious; character constrained and threatened at gunpoint; character pursued upon multiple occasions; character desires to back-hand another; character come upon a destroyed building; character restrains another by twisting arm and choking off throat with arm; character kidnapped; character taken against their will; character shot at; character knocked unconscious; characters gagged and tied up; character grabs another by neck instigating an extended scene of confrontation with general descriptions of pursuit, sound of gunshots, implied shooting of an animal, animals with blood on their muzzles, magical restraints; magic used to shatter glass resulting in deaths, minimal description; extended scene of dragons fighting (minimal descriptions) resulting in destruction of property and characters being knocked unconscious with explosion and dart gun; character commits honor suicide with knife, brief; character shot, brief.
Sex/Nudity: Reference to a dragon having companied with other dragons to bear children; characters embrace; character suggests to another that they "share a bed"; brush fingers against neck; character relates how he learned that he fathered a child out of wedlock; man pats a woman on leg above knee; character observes that females in speak-easy are putting up with a lot of wandering hands from their male companions; characters seem to be re-hashing an old love affair; character has brief thoughts about attraction to another; characters embrace and passionately kiss.
Mature Subject Matter:
Death, destruction of property, Prohibition, gang activity, blackmail, racial discrimination, boot-legging, kidnapping, politics.
Alcohol / Drug Use:
Adults drink and smoke frequently throughout the book; some scenes take place in speak-easies; character is administered a drug that affects their magical abilities.
Reviewed By Cindy